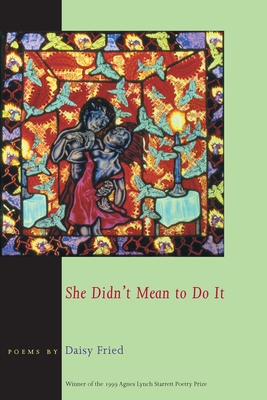 She Didn't Mean To Do It (Pitt Poetry Series)
Paperback

* Individual store prices may vary.
Praise For She Didn't Mean To Do It (Pitt Poetry Series)…
"Daisy Fried's everyday toughness of subject matter makes her all the more aware of tenderness, hence her delight in 'the beauty of boys on skateboards,' with their clean necks, and her feeling for both stabbed and stabber in her poem about the carnival. Maybe this is the book of the year, it has such range and it is so well-written, for her faithfulness to her emotion is matched by her carefulness of execution."
--Thom Gunn

"Daisy Fried is a very talented, very serious, but also a very playful, young poet who deserves a wide audience. Her poems have two things—story and song—that are rare in poetry today, even among far more experienced poets. Though her voice doesn't sound like anyone else's, it has a subtle affinity with the jazzy, cool, humorous tones of writers like August Kleinzahler and Dean Young. Fried is a pleasure to read, but the pleasure is often mixed with something bitter, or salty, or hard, and that's what makes her so good."
—Wendy Lesser 
University of Pittsburgh Press, 9780822957386, 80pp.
Publication Date: November 22, 2000