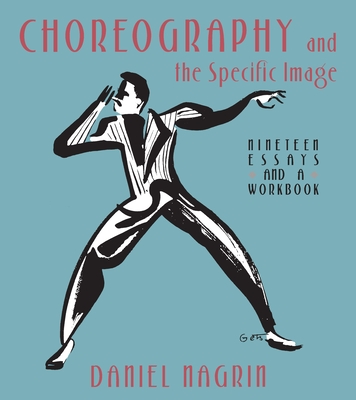 Choreography And The Specific Image
Paperback

* Individual store prices may vary.
Description
"The world outside has burst into the studio," writes the influential dancer, teacher, and choreographer Daniel Nagrin. Many dancers want passionately to confront concrete, difficult subjects. But their formalistic training hasn't prepared them for what they need to say. This book, the first on choreography approached through content rather than structure, is designed with them in mind.
    
Spiced with wit and strong opinions, Choreography and the Specific Image explores, in nineteen far-ranging essays, the art of choreography through the life's work of an important artist. A career of performance, creativity, and teaching spanning five decades, Nagrin reveals the philosophy and strategy of his work with Helen Tamiris, a founder of modern American dance, and of Workgroup, his maverick improvisation company of the 1970s. During an era when many dancers were working with movement as abstraction, Nagrin turned instead toward movement as metaphor, in the belief that dance should be about something. In Choreography and the Specific Image, Nagrin shares with the next generation of dancers just how that turn was accomplished.
 
"It makes no sense to make dances unless you bring news," he writes. "You bring something that a community needs, something from you: a vision, an insight, a question from where you are and what churns you up." In a workbook following the essays, Nagrin lays out a wealth of clear, effective exercises to guide dancers toward such constructive self-discovery. Unlike all other choreography books, Nagrin addresses the concerns of both modern and commercial (show dance) choreographers. "The need to discover the inner life," he maintains, "is what fires the motion."

This is Nagrin's third book of a trilogy, following Dance and the Specific Image: Improvisation and The Six Questions: Acting Technique for Dance Performance. Each focuses on a different aspect of dance—improvisation, performance, and choreography—engaging the specific image as a creative tool.
 
Part history, part philosophy, part nuts-and-bolts manual, Choreography and the Specific Image will be an indispensable resource for all those who care passionately about the world of dance, and the world at large.
Praise For Choreography And The Specific Image…
"Daniel Nagrin asks the right questions and offers insight and meaningful information to guide performers, teachers, and audience members toward a greater connection with the self and the art of dance. He is a master."
—Linda C. Smith, Artistic Director, Repertory Dance Theatre, Salt Lake City
"An extraordinary and indispensable resource for choreographers, from budding to veteran.  Here is a book that I can keep close by, reread and refer to again and again for comfort, inspiration, and contemplation for the years to come."
—Li Chiao-Ping
"Daniel Nagrin is one of the genuinely interesting figures in American modern dance.  in the volume, informed by the wisdom and experience of an unusually long and productive creative life, he turns his insightful gaze upon the making of dances."
—Robby Barnett, Pilobolus Dance Theatre
"Not a day goes by where I do not call on Daniel's brillance as an artist and educator, a writer,a thinker, and a person to aid me in my job as a choreographer, performer, and teacher."
—David Dorfman
University of Pittsburgh Press, 9780822957508, 288pp.
Publication Date: August 9, 2001
About the Author
Daniel Nagrin, dubbed "the great loner of American dance" by Dance Magazine, has worked with Martha Graham, Helen Tamiris, Mme. Anderson-Ivantzova, and Anna Sokolow. He has danced on Broadway, in film and television, and has toured nationally and internationally as a solo concert artist. He is professor emeritus of dance at Arizona State University.
or
Not Currently Available for Direct Purchase