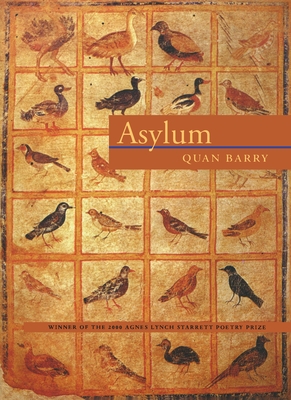 Asylum (Pitt Poetry Series)
Paperback

* Individual store prices may vary.
Description
Winner of the 2000 Agnes Lynch Starrett Poetry Prize
2002 finalist in poetry, Society of Midland Authors

Quan Barry's stunning debut collection has been compared to Sylvia Plath's Ariel for the startling complexity of craft and the original sophisticated vision behind it. In these poems beauty is just as likely to be discovered on a radioactive atoll as in the existential questions raised by The Matrix.

Asylum  is a work concerned with giving voice to the displaced—both real and fictional. In "some refrains Sam would have played had he been asked" the piano player from Casablanca  is fleshed out in ways the film didn't allow. Steven Seagal, Yukio Mishima, Tituba of the Salem Witch Trials, and eighteenth-century black poet Phillis Wheatley also populate these poems.

Barry engages with the world—the Tuskegee syphilis experiments, the legacy of the Vietnam war—but also tackles the broad meditative question of the individual's existence in relation to a higher truth, whether examining rituals or questioning, "Where is it written that we should want to be saved?" Ultimately, <I>Asylum</I> finds a haven by not looking away.

Praise For Asylum (Pitt Poetry Series)…
"Composed in an oblique, postmodern style, the poems in Barry's first book reveal a dysfunctional global society where young women are still circumcised, a teenager is near bludgeoned to death in her own bed, African Americans are routinely brutalized, and Siamese twins somehow survive the horrible after-effects of Agent Orange. For Barry, too, is a survivor, as she confesses in her brilliant autobiographical poem, "Child of the Enemy," the centerpiece of this collection. The poet empathizes with all the abused and marginalized characters in the book because she is an American with "shame/on the dark meat" of her face. Her remarkable poems are studded with allusions to the Bible, Bob Dylan, Osip Mandelstam, and Yukio Mishima. The titles are dazzling, running the gamut from mathematical equations to cartoon characters. Barry holds these disparate poems together with her strongly original voice, her carefully nuanced tone, and her surprising metaphors, like the "blue scripts" of rivers. Highly recommended for large public libraries and academic libraries."
--Library Journal
University of Pittsburgh Press, 9780822957690, 88pp.
Publication Date: August 2, 2001
About the Author
Quan Barry is the author of three poetry collections: Asylum, Controvertibles and Water Puppets.  She is professor of English at the University of Wisconsin-Madison where she directs the MFA program in creative writing.