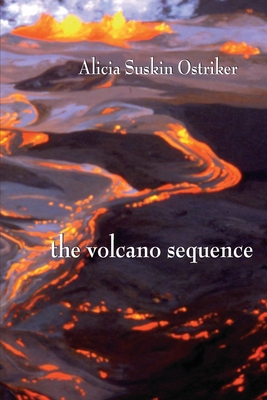 The Volcano Sequence (Pitt Poetry Series) (Paperback)
University of Pittsburgh Press, 9780822957843, 136pp.
Publication Date: February 14, 2002
* Individual store prices may vary.
Description
A bold, erotic,and spiritual collection of poetry from well-respected poet and critic Alicia Suskin Ostriker, whose previous two books were both National Book Award finalists.
About the Author
Alicia Suskin Ostriker is one of America's premier visionary poets and critics.  She is the author of fourteen poetry collections, including The Book of Seventy; The Mother/Child Papers; No Heaven; the volcano sequence; and The Little Space: Poems Selected and New, 1968–1998, as well as several books on the Bible.  She has received the Paterson Poetry Prize, the William Carlos Williams Award, the San Francisco State Poetry Center Award, the National Jewish Book Award, and has twice been a finalist for the National Book Award. Ostriker is Professor Emerita of English at Rutgers University and teaches in the low-residency MFA program of Drew University.
Praise For The Volcano Sequence (Pitt Poetry Series)…
"This is a book written in white-hot passion, the kind of book that enters the writer perhaps once in a lifetime, and its synthesis of intellect and eros, historicism and contemporaneity, make it a major achivement. Whe Garbo went unannounced to visit Eric von Stroheim one afternoon, he said, 'Greta! Please come ind never leave.' After reading 'the volcano sequence,' you want to say, 'Ostriker! Please write like this forever.' ... In American spiritual poetry, there is nothing to match its sweep and power until you go back to Emily Dickinson writing in the 1860s. This is a book to be cherished, written about, argued over, read and reread for years." 
--Women's Review of Books
"Complex, original, and written with a truly literate and skilled economy of words. 'the volcano sequence' is a compilation of verse that fully showcases Ostriker a master poet in the full vigor of her imagination and wordsmithing talent."
—Midwest Book Review
"In her tenth collection, Ostriker's need to understand a woman's relationship with "ruach" (wind, breath, spirit of God) is a crucial poetic—and human—act, making this is an innovative "book of life" for men and women alike. Recommended for all poetry collections."
—Library Journal
"Every year, I try to recommend a book of poetry, and this year I've found a great one: Alicia Suskin Ostriker's 'the volcano sequence. A mature, philosophical, yet playful voice comes through in these tight poems. Intense and profound, these poems also dazzle with surprising imaginery."
—The Progressive
"the volcano sequence is one of the those poems the world of literature occasionally has the good fortune to receive which doesn't so much sum up a life, as embody it.  Ostriker's spiritual consciousness is abundant, complex, she has many moral sympathies and many symbolic selves to enact her curiosities and compassion.  Her ruminations and ethical queries range from the world of the bible, to India, classical Greece and most urgently to our own imperfect dominion, as it is lived in the mind and the body, in passion and despair.  This is a poem with a voice of its own; it is a prayer to God, and a hymn of accusation for the lapses of divinity; it is a psalm of praise for the life of the flesh, and a mourning for life's fleetingness.  Most importantly, Ostriker finds, and offers us, a heartening solace in the rigor of her regard."
—C. K. Williams