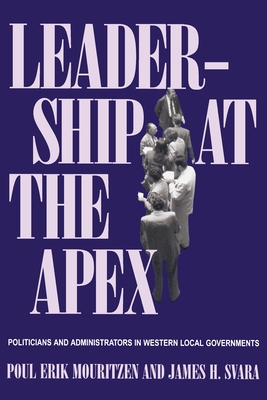 Leadership At The Apex (Paperback)
Politicians and Administrators in Western Local Governments
University of Pittsburgh Press, 9780822957850, 352pp.
Publication Date: September 29, 2002
* Individual store prices may vary.
Description
Although the relationship between elected officials and appointed executives has often been viewed as a struggle between master and servant—with disagreements as to which individuals occupy which roles—Poul Erik Mouritzen's and James Svara's comparison of city governments in fourteen countries reveals more interdependence and shared influence than conflict over control.
Mouritzen and Svara bring local government to the forefront, emphasizing the sophisticated level of city management in Australia, Belgium, Denmark, Finland, France, Ireland, Italy, the Netherlands, Norway, Portugal, Spain, Sweden, the United Kingdom, and the United States. Their findings lead to a revision of the general view concerning the boundaries of public administration. <I>Leadership at the Apex</I> illustrates in practical ways how the democratic control of government and professional administration can coexist without undermining the logic or integrity of each other.
Praise For Leadership At The Apex: Politicians and Administrators in Western Local Governments…
"Offers a rare cross-national study of top local officials—who they are, what they do, how they work together to govern communities in Western Europe, the United States, and Australia."
—Richard Stillman, University of Colorado
or
Not Currently Available for Direct Purchase