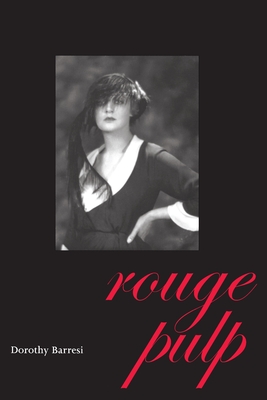 Rouge Pulp (Pitt Poetry Series) (Paperback)
University of Pittsburgh Press, 9780822957898, 96pp.
Publication Date: October 6, 2002
* Individual store prices may vary.
Description
Rouge Pulp explores notions of body and beauty, birth and death, in a contemporary America driven by its contradictions: material plenty and spiritual lack. Dorothy Barresi writes about strippers, hair salons, cancer, good credit ratings, cockfights, childbirth, maternal love, war. Her poems take the world's brutal vitality as their music, and they refuse to despair.
About the Author
Dorothy Barresi is professor of English at California State University, Northridge. She is the author of three  poetry collections: All of the Above, winner of the Barnard College New Women Poets Prize; The Post-Rapture Diner, winner of the American Book Award; and Rouge Pulp.
Praise For Rouge Pulp (Pitt Poetry Series)…
" . . . Barresi's real strength is her humor, and she shows it off in hilarious riffs on the circus of beautification . . . And when she has a subject that hits right on her central obsession,  Barresi's wit can shine brightly, as in her elegy to a burlesque star . . . a real atom smasher."
--New York Times Book Review
"'Rouge Pulp' is one of the most memorable, original books of poetry to appear in a long time."
"Part Sylvia Plath, part John Donne, Barresi handles both surprise and expectation with deftness, displaying uncommon verbal ingenuity and inteligence of investigation.  . . . 'Rouge Pulp' spins poems of startling megaphysical imagae shot through with slang and pop culture.  . . . How many poets can be simultaneously funny and terrifying? Not many, but Dorothy Barresi is one of them."
"Is this a sock-hop, a strip-tease, or a dance of death? The poems of Rouge Pulp are, astonishingly, all of these. . . . Barresi's work transcends category or camp, and Rouge Pulp is one of the most memorable, original books of poetry to appear in a long time."
--Pleiades
"Always sassy and reckless, always poignant and heart-wrenching, Dorothy Barresi's astonishing poems constantly fill us with a rare, bare-knuckled exuberance about the world. Stylistically inventive and dancing with her trademark verbal jazz, these new poems distinguish Rouge Pulp as one of the finest collections of recent years."—David St. John
"There's so much grief and anger, awe and laughter and love, in these poems—so much of the whole human dynamic—that they could power a small city in the Midwest, with enough juice left over to shock the terminally earnest back to life."—Elton Glaser
"Poems of the body. Of the immigrant. Of grief. Of motherhood. Of and about beauty. Hart Crane. Otto Plath. Even the last Kennedy. And all of them deeply American.  And all of them written with the clear eye and honest speech we have come to expect of Dorothy Barresi."—Gillian Conoley

"[Barresi] becomes our Virgil, as we tour the various circles of our world, witnessing all the violence and pain which daily fill our consciousness. Yet despite this, she exhibits a new sense of confidence and power."—88: A Journal of Contemporary American Poetry
"The kind of poetry that intrigues a reader. . . . Barresi brings a really strong voice to the literary scene. Her poems resonate in a language which speaks to people as human beings, members of the tribe, a sharable trait in success and faiure: a proud display in the daylight of frailty."—Iron Horse Literary Review