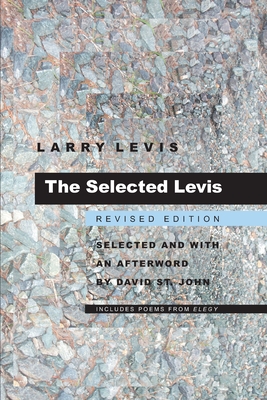 The Selected Levis
Revised Edition (Pitt Poetry Series)
Paperback

* Individual store prices may vary.
Description
Edited and with an Afterword by David St. John

When Larry Levis died suddenly in 1996, Philip Levine wrote that he had years earlier recognized Levis as "the most gifted and determined young poet I have ever had the good fortune to have in one of my classes. . . . His early death is a staggering loss for our poetry, but what he left is a major achievement that will enrich our lives."  Each of his books was published to wide critical acclaim, and David St. John has collected together the best of his work from his first five books: Wrecking Crew (1972), Afterlife (1976), The Dollmaker's Ghost (1981), Winter Stars (1985) and The Widening Spell of the Leaves (1991).

"It is not an exaggeration to say that the death of Larry Levis in 1996—of a heart attack at 49—sent a shock wave through the ranks of American poetry. Not only was Levis a good friend to many poets (not simply of his own generation but of many poets older and younger as well), his poetry had become a kind of touchstone for many of us, a source of special inspiration and awe. With Larry Levis' death came the sense that an American original had been lost. . . . It is not at all paradoxical that he saw both the most intimate expressions of poetry and the grandest gestures of art, of language, as constituting individual acts of courage. One can only hope that, like such courage, Larry Levis's remarkable poems will continue to live far into our literature."—from the Afterword, by David St. John


Praise For The Selected Levis: Revised Edition (Pitt Poetry Series)…
"If I could select one book of poetry from the past year to read and read again, this is it. If I could teach only one poet to younger poets, it would be Larry Levis. . . . If I could describe everything poets want their poets to do, regardless of their style and intentions, I would turn to Levis' poetry once again, and not say a word."
--Bloomsbury Review

"As his command of the poetic line widened, Levis's poetry became almost literally breathtaking, a kind of verse that spelled itself out and cast it's spell in such sinewy inventive cadences that the leaves to which he referred in 'the widening spell of the leaves' might well have been those most powerfully American bits of foliage, Leaves of Grass."
--Poetry
University of Pittsburgh Press, 9780822957935, 224pp.
Publication Date: January 26, 2003
About the Author
Larry Levis was born in Fresno, California, in 1946. His first book of poems, Wrecking Crew, won the United States Award from the International Poetry Forum, and was published in the Pitt Poetry Series in 1972. His second book, The Afterlife, won the Lamont Award from the American Academy of Poets in 1976. In 1981, The Dollmaker's Ghost was a winner of the Open Competition of the National Poetry Series. Among his other awards were three fellowships in poetry from the National Endowment for the Arts, a Fulbright Fellowship, and a Guggenheim Fellowship. Larry Levis died in 1996.