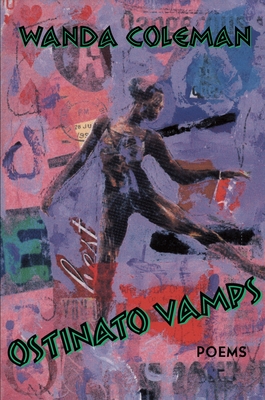 Ostinato Vamps
Poems (Pitt Poetry Series)
Paperback

* Individual store prices may vary.
Description
Ostinato Vamps is Wanda Coleman's first book of poetry since the demise of her longtime publisher, Black Sparrow Press. It continues and enlarges the traits that have been her hallmark for more than three decades: a fierce adherence to the truth and a language so musical one can almost hear the blues line underneath her stanzas.

Linguistically daring, lyrically breathtaking, stylistically bold, these poems both explore familiar territory and shatter stereotypes. Life is difficult, often unfair, but it belongs to the living, as Coleman reminds us in no uncertain terms. Racing between an earthy eroticism and fatalistic despair, filled with humor and tragedy, these poems are alive. They breathe. They challenge us even as they reward us for seeking the truth.
Praise For Ostinato Vamps: Poems (Pitt Poetry Series)…
"[Coleman] is best known for what has often been termed her 'warrior voice,' her inclination to impatiently peel away small talk's polite veneer, to scissor through to the heart of the matter. . . . [A] master of telling unvarnished truths—about self, about the world, about personal past and our collective future."
--Los Angeles Times
"A sly observer, Coleman continues to shoplift language to address a gamut of psycho-social ills. . . . The inclusive and experimental quality of Coleman's voice characterizes a truly American aesthetic."
--Black Issues Book Review
"What astounds is the clarity and uniqueness of [Coleman's] perceptions. . . . Highly recommended."
—Library Journal
"Adds a remarkably divergent voice to the richly multicultural strain of recent American poetry. A poet of tremendous range and verbal energy. . . . Coleman is a poet who courts disruptionas a way of making sense of a mind-boggling diversity of values."
—West Branch
"A veritable atomic bomb of Brechtian-style 'verfremdung.'  Ostinato Vamps is Coleman's most accessible and powerful work to date and my third-choice reading of the year."
—Isthmus Books Quarterly
University of Pittsburgh Press, 9780822958338, 128pp.
Publication Date: October 19, 2003
About the Author
Wanda Coleman  is a poet and writer from Los Angeles, California. Her numerous poetry collections include Mercurochrome: New Poems, nominated for the National Book Award; Bathwater Wine, winner of the Lenore Marshall Poetry Prize; and Ostinato Vamps. She is the recipient of fellowships from the Guggenheim Foundation and the National Endowment for the Arts, and an Emmy Award as a writer for Days of Our Lives.
or
Not Currently Available for Direct Purchase