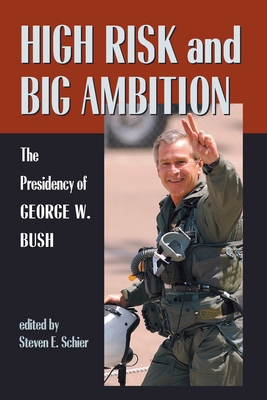 High Risk And Big Ambition (Paperback)
Presidency of George W. Bush
University of Pittsburgh Press, 9780822958505, 304pp.
Publication Date: May 30, 2004
Other Editions of This Title:
Hardcover (5/30/2004)
* Individual store prices may vary.
Description
Elected with no clear public mandate, George W. Bush achieved surprising legislative successes in his early months in the White House. Following September 11, 2001, his public support rose to unprecedented heights. Actions taken in the following months and years have revealed the exceptionally ambitious nature of the Bush presidency.

High Risk and Big Ambition brings together leading presidency scholars and journalists to assess the trajectory and character of Bush's time in office. The common theme running through their contributions is that this presidency is best characterized by a series of bold political and policy risks in the service of two primary goals: the transformation of American foreign policy and the creation of a lasting Republican dominance of domestic politics.

Included are discussions of foreign policy, national security, the war in Iraq, Bush's leadership style, religious politics, and economic policy. George W. Bush emerges as an "orthodox innovator" who skillfully deploys both personal politics and the power of his office in an effort to complete the conservative governmental agenda initiated by Ronald Reagan. Yet because of the size of his ambitions, each success sets up a greater risk of failure. That alone makes his presidency one of the most interesting and consequential in decades.
About the Author
Steven E. Schier, the Dorothy H. and Edward C. Congdon Professor of Political Science at Carleton College, is the author or editor of numerous books including The Postmodern Presidency: Bill Clinton's Legacy in U.S. Politics, and By Invitation Only: The Rise of Exclusive Politics in the United States.
Praise For High Risk And Big Ambition: Presidency of George W. Bush…
"The Bush presidency—for good or ill—is one of the most important administrations since FDR. This book places the Bush Revolution, and that's what it is, in context, giving the reader the tools for making sense of the momentous changes taking place in the United States and around the world."
—Michael A. Genovese, author of The Power of the American Presidency
or
Not Currently Available for Direct Purchase