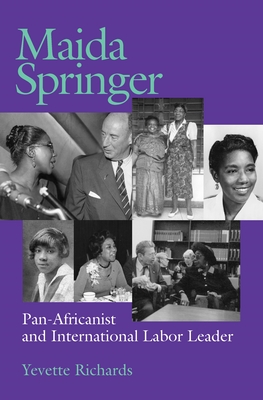 Maida Springer
Pan Africanist And International Labor Leader
Paperback

* Individual store prices may vary.
Description
Maida Springer was an active participant in shaping a history that involved powerful movements for social, political and economic equality and justice for workers women, and African Americans. Maida Springer is the first full-length biography to document and analyze the central role played by Springer in international affairs, particularly in the formation of AFL-CIO's African policy during the Cold War and African independence movements.

Richards explores the ways in which pan-Africanism, racism, sexism and anti-Communism affected Springer's political development, her labor activism, and her relationship with labor leaders in the AFL-CIO, the International Confederation of Free Trade Unions (ICFTU), and in African unions. Springer's life experiences and work reveal the complex nature of black struggles for equality and justice. A strong supporter of both the AFL-CIO and the ICFTU, Springer nonetheless recognized that both organizations were fraught with racism, sexism, and ethnocentrism. She also understood that charges of Communism were often used as a way to thwart African American demands for social justice. As an African-American, she found herself in the unenviable position of promoting to Africans the ideals of American democracy from which she was excluded from fully enjoying.

Richards's biography of Maida Springer uniquely connects pan-Africanism, national and international labor relations, the Cold War, and African American, labor, women's, and civil rights histories. In addition to documenting Springer's role in international labor relations, the biography provides a larger view of a whole range of political leaders and social movements. Maida Springer is a stirring biography that spans the fields of women studies, African American studies, and labor history.
Praise For Maida Springer: Pan Africanist And International Labor Leader…
" The book is fascinating reading. The detailed accounts of Springer's interactions with U.S. and African leaders provide essential information for understanding U.S.-African international relations. Every scholar of U.S.-African relations, labor's Cold War, African American labor, and women's history will appreciate Richards's research."
—Journal of American History
" . . . a sensitive and compassionate portrayal of the life of Maida Springer . . . Richards has done a great service to historians . . . a fascinating treatment of an important champion of  African freedom and justice that will help to change scholars' understanding of the intersections of African-American, labor, international, and gender histories."
—American Historical Review
"Richard's fascinating book chronicles Maida Springer's contributions to African workers' empowerment and the International Ladies Garmet workers Union. This volume significantly advances ongoing efforts to excavate the history of African Americans' contributions to the labor movement both in the US and internationally, and ameliorates the limited attention devoted to gender issues."
—Choice
University of Pittsburgh Press, 9780822958512, 384pp.
Publication Date: August 29, 2004
About the Author
Yevette Richards received a Ph.D. in American Studies from Yale University. Her areas of interest include labor, African American, and women's histories. She has published articles in the International Journal of African Historical Studies and the Journal of Women's History.
or
Not Currently Available for Direct Purchase