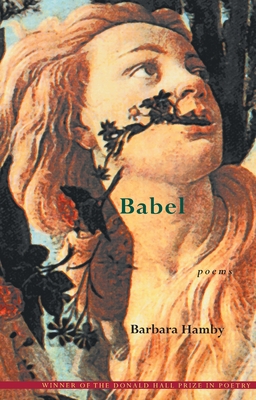 Babel (Pitt Poetry Series)
Paperback

* Individual store prices may vary.
Description
Babel features more of the rhetorical acrobatics that fueled Barbara Hamby's earlier work. These whirlwinds of words and sounds form vistas, images, and scenes that are at once unique and immediately recognizable.

In poems such as "Six, Sex, Say," she displays a linguistic bravado that moves effortlessly through translations, cognates, and homonyms. This love of words permeates the poems, from the husband wooing his future wife "with a barrage of words so cunningly fluent, / so linguistically adroit" in "Flesh, Bone, and Red," to the alphabetic sampler woven from memory and love in "Ode on My Mother's Handwriting."

Hamby's poems drift across histories and continents, from early writing and culture in Mesopotamia through the motion-picture heaven that seems so much like Paris, to odes on such thoroughly American subjects as hardware stores, bubblegum, barbecue, and sharp-tongued cocktail waitresses giving mandatory pre-date quizzes to lawyers and "orangutans in the guise of men." As Booklist noted in reviewing her previous collection, Hamby's poems "are tsunamis carrying you far out to sea and then back to shore giddy and glad to be alive."
Praise For Babel (Pitt Poetry Series)…
"Hamby's poems resemble spells, words cascading like Flora's flowers. The result in a break-necking pace, and it is almost miraculous that this collection does not spin out of control. . . . These poems are tender, humble, and often humorous. . . . This collection does pack a punch."
--ForeWord Magazine
"Barbar a Hamby's Babel is just that--a wild confluence of words almost inundated by its barely restrained verbal enthusiasms. Funky, erudite, obsessively referential, and wild with listing, her poems orgiastically invite us to hurl ourselves into them."
--Billy Collins
"Babel is a word-lover's romp, a cultural historian's playground. Hamby can be as inclusive as Goldbarth, as intelligently zany as Frank O'Hara. This is poetry that energizes, that dares to give us a high-wire performer's notion of a good time."
—Stephen Dunn
"Hamby's poems have a jumping verve and forward drive. She knows American life and language with exuberant precision and links them to the popular culture, high art, and languages of many of other countries, all of this in a prfoundly assured, resourceful, inventive and unifying voice."
--Tar River Poetry
University of Pittsburgh Press, 9780822958598, 88pp.
Publication Date: November 7, 2004
About the Author
Barbara Hamby is the author of four poetry collections, including All-Night Lingo Tango and Babel, winner of the Donald Hall Prize in Poetry. Her book of linked stories, Lester Higata's 20th Century, received the 2010 Iowa Short Fiction Award/John Simmons Award. She also coedited an anthology of poetry, Seriously Funny, with her husband David Kirby. Hamby is the recipient of a Guggenheim Fellowship, a Kate Tufts Award, and numerous other honors. Her poems have been widely anthologized, including The Best American Poetry 2000, 2009, and 2010. She is a Distinguished University Scholar at Florida State University, specializing in poetry and fiction.
or
Not Currently Available for Direct Purchase