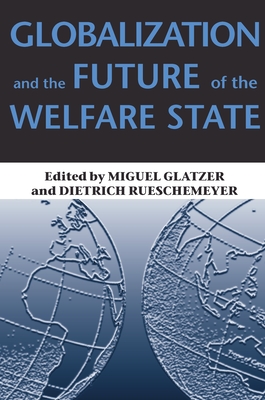 Globalization and the Future of the Welfare State (Paperback)
University of Pittsburgh Press, 9780822958611, 288pp.
Publication Date: December 20, 2004
* Individual store prices may vary.
Description
In the last quarter of the twentieth century, the global political economy has undergone a profound transformation. Democracy has swept the globe, and both rich and developing nations must compete in an increasingly integrated world economy.
How are social welfare policies being affected by this wave of economic globalization? Leading researchers explore the complex question in this new comparative study. Shifting their focus from the more commonly studied, established welfare states of northwestern Europe, the authors of Globalization and the Future of the Welfare State examine policy development in the middle-income countries of southern and eastern Europe, Latin America, Russia, and East Asia. 
Previous investigations into the effects of globalization on welfare states have generally come to one of two conclusions. The first is that a global economy undermines existing welfare states and obstructs new developments in social policy, as generous provisions place a burden on a nation's resources and its ability to compete in the international marketplace. In contrast, the second builds on the finding that economic openness is positively correlated with greater social spending, which suggests that globalization and welfare states can be mutually reinforcing.
Here the authors find that globalization and the success of the welfare state are by no means as incompatible as the first view implies. The developing countries analyzed demonstrate that although there is great variability across countries and regions, domestic political processes and institutions play key roles in managing the disruptions wrought by globalization.
About the Author
Miguel Glatzer is a research associate at the University Center for International Studies at the University of Pittsburgh.

Dietrich Rueschemeyer is a research professor at the Watson Institute for International Studies at Brown University, and the coauthor of Capitalist Development and Democracy.
Praise For Globalization and the Future of the Welfare State…
"An important resource for scholars investigating the role of domestic politics in modifying the impact of globalization. Additionally, the depth of the case studies will be extremely useful for scholars in comparative politics and, of course, for those studying changes in social welfare policies in both the developing and the developed states."
--International Studies Review
"By linking an analysis of rich and poor country welfare states, Glatzer and Rueschemeyer show that glib forecasts of the welfare state's death are greatly exaggerated." 
—Herman Schwartz, University of Virginia
"The study of the welfare state is breaking out of its European shell. This collection combines a strong focus on the consequences of globalization while extending the scope of comparative analysis to Latin America, East Asia, and the former socialist states. Drawing on the top scholars in the field, this is a first-rate volume." 
—Stephan Haggard, University of California, San Diego
or
Not Currently Available for Direct Purchase