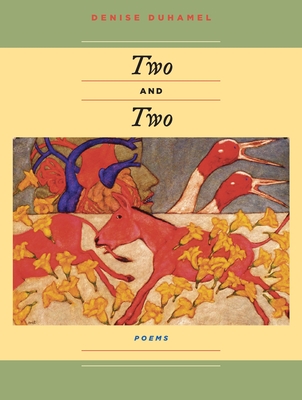 Two And Two (Pitt Poetry Series)
Paperback

* Individual store prices may vary.
Description
Denise Duhamel's much anticipated new collection begins with a revisionist tale--Noah is married to Joan of Arc--in a poem about America's often flawed sense of history. Throughout Two and Two, doubles abound: Noah's animals; Duhamel's parents as Jack and Jill in a near-fatal accident; an incestuous double sestina; a male/female pantoum; a dream and its interpretation; and translations of advertisements from English to Spanish. In two Möbius strip poems (shaped like the Twin Towers), Duhamel invites her readers to get out their scissors and tape and transform her poems into 3-D objects.
At the book's center is "Love Which Took Its Symmetry for Granted," a gathering of journal entries, personal e-mails, and news reports into a collage of witness about September 11. A section of "Mille et un sentiments," modeled on the lists of Hervé Le Tellier, Georges Perec, and George Brainard, breaks down emotions to their most basic levels, their 1,001 tiny recognitions. The book ends with "Carbó Frescos," written in the form of an art guidebook from the 24th century.
Innovative and unpretentious, Duhamel uses twice the language usually available for poetry. She culls from the literary and nonliterary, from the Bible and product warning labels, from Woody Allen films and Hong Kong action movies--to say difficult things with astonishing accuracy. Two and Two is second to none.
Praise For Two And Two (Pitt Poetry Series)…
"People who never buy books of poetry will find a compelling reason to buy this one: at its center is a long poem constructed out of the e-mail detritus of 9/11, when citizens and survivors from all over the world poured their grief onto global listservs, as well as of news sound bites, bits of trauma-related classroom exercises, profiles of bin Laden and others, as well as elegies for the viction.""
--Publishers Weekly

"Denise Duhamel's wacky poems cavort, tumble, defy gravity, and most assumptions of the rational mind.  But the real feat  here is to be at once dazzling and somehow resolutely human-- in the way the most fantastic, reeling dreams come to us in service of the heart's unedited, plain truth."
--Foreword Magazine

". . . rare book of poems--even rarer in this age of irony and emotional deferment--that moves effortlessly between unstilted candor and the verbal equivalent of slapstick humor."
--Barrow Street
University of Pittsburgh Press, 9780822958710, 126pp.
Publication Date: February 8, 2005
About the Author
Denise Duhamel's previous books include Queen for a Day: Selected and New Poems and Mille et un sentiments, a limited edition book. A recipient of a National Endowment for the Arts Fellowship, she teaches creative writing at Florida International University in Miami.
or
Not Currently Available for Direct Purchase