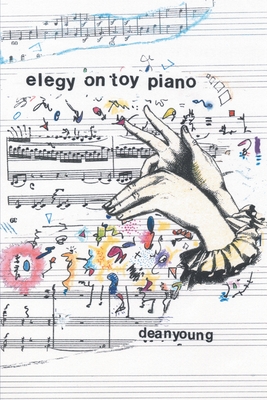 Elegy on Toy Piano (Paperback)
University of Pittsburgh Press, 9780822958727, 104pp.
Publication Date: January 28, 2005
Description
In Elegy on Toy Piano, Dean Young's sixth book of poems, elegiac necessity finds itself next to goofy celebration. Daffy Duck enters the Valley of the Eternals. Faulkner and bell-bottoms cling to beauty's evanescence.
Even in single poems, Young's tone and style vary. No one feeling or idea takes precedence over another, and their simultaneity is frequently revealed; sadness may throw a squirrelly shadow, joy can find itself dressed in mourning black. As in the agitated "Whirlpool Suite": "Pain / and pleasure are two signals carried / over one phoneline."
In taking up subjects as slight as the examination of a signature or a true/false test, and as pressing as the death of friends, Young's poems embrace the duplicity of feeling, the malleability of perception, and the truth telling of wordplay.
About the Author
Dean Young has published several books of poetry, including his 2005 collection, Elegy on Toy Piano, afinalist for the Pulitzer Prize in Poetry. His collection Skid was a finalist for the Lenore Marshall Prize. Young has received two National Endowment for the Arts fellowships as well as a Guggenheim Fellowship. He teaches at The Writers' Workshop at the University of Iowa and in the Warren Wilson Low Residency Program.
Praise For Elegy on Toy Piano…
"Confidently balances moments of absurdity against high drama and raw admissions of emotion. . . . His particular mix of the silly and the deadly serious increases the poignancy of the poems. . . . This book of energetic, chronic juxtaposition pieces together a winning, tinkling set of send-offs for friends, and for feelings."
--Publishers Weekly

"Surrealism seldom seems as much like real life as in Young's hilarious and cautionary poems."
--Booklist

"Dean Young's work, I've concluded, will delight only two kinds of people: those who generally read poetry and those who generally don't. The former will find a promising revitalization project and unalloyed pleasure. The latter will find, to their unalloyed pleasure, that perhaps poetry isn't how they imagined it. . . . Young is the architect of an amusement park, but he's also the mescaline-addled raconteur in the truth-teller's booth at that amusement park. He's both dreamscaper and landscaper, spinner of fantastic yarns and unremitting bullshit-detector. He's initiating protests with water guns. He's composing dirges on plastic accordions and elegies on toy pianos."
--Threepenny Review
Advertisement