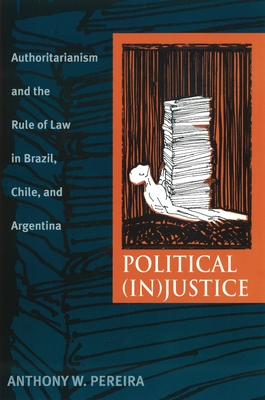 Political (In)Justice
Authoritarianism and the Rule of Law in Brazil, Chile, and Argentina (Pitt Latin American)
Paperback

* Individual store prices may vary.
Description
Why do attempts by authoritarian regimes to legalize their political repression differ so dramatically? Why do some dispense with the law altogether, while others scrupulously modify constitutions, pass new laws, and organize political trials? Political (In)Justice answers these questions by comparing the legal aspects of political repression in three recent military regimes: Brazil (1964-1985); Chile (1973-1990); and Argentina (1976-1983). By focusing on political trials as a reflection of each regime's overall approach to the law, Anthony Pereira argues that the practice of each regime can be explained by examining the long-term relationship between the judiciary and the military. Brazil was marked by a high degree of judicial-military integration and cooperation; Chile's military essentially usurped judicial authority; and in Argentina, the military negated the judiciary altogether. Pereira extends the judicial-military framework to other authoritarian regimes-Salazar's Portugal, Hitler's Germany, and Franco's Spain-and a democracy (the United States), to illuminate historical and contemporary aspects of state coercion and the rule of law.
Praise For Political (In)Justice: Authoritarianism and the Rule of Law in Brazil, Chile, and Argentina (Pitt Latin American)…
"A compelling and accessible comparative account of political justice during the last wave of military rule in South America.  This readable book is useful for students and researchers trying to understand how governments can and do limit liberties in the name of security and freedom."
--Hispanic American Historical ReviewHispanic American Historical Review

"A new and insightful lens through which to explore regime consolidation through the judiciary, going beyond the traditional focus on societal threat, military cohesion, or economic stewardship. Will be a welcome and  informative resource for students and scholars of dictatorship and democratization in Latin America and beyond."
--Journal of Latin American Studies

"A fascinating comparison of the legal systems of the military dictatorships in Brazil, Chile, and Argentina. . . . Perhaps the most useful conribution is the basic information it provides about the largely overlook institutions of authoritiarian judiciaries."
--Perspectives on Politics
University of Pittsburgh Press, 9780822958857, 280pp.
Publication Date: October 23, 2005
About the Author
Anthony W. Pereira is associate professor of political science at Tulane University. He is the author of The End of Peasantry: The Emergence of the Rural Trade Union Movement in Northeast Brazil, 1961-1988, and coeditor of Irregular Armed Forces and Their Role in Politics and State Formation.