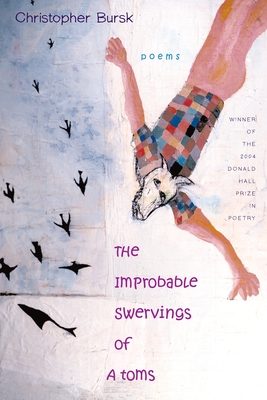 The Improbable Swervings of Atoms (Pitt Poetry Series) (Paperback)
University of Pittsburgh Press, 9780822958895, 104pp.
Publication Date: August 20, 2005
* Individual store prices may vary.
Description
Winner of the 2004 Donald Hall Prize in Poetry
The Improbable Swervings of Atoms follows the comedic, often painful, physical and emotional travails of a young boy growing up in 1950s America.  He watches the McCarthy hearings, conquers the Congo, assassinates the president, has his head stuffed into a toilet, drops his uniform on the fifty-yard line, and tries to make sense of Lucretius's De Rerum Natura.
The poems engage history in a very intimate way, revealing how a boy, as he matures, attempts to understand the world around him, his own physical development, the people in his life, and what it means to live in a country and time where it is impossible to disengage oneself from world events—where, in fact, the quest for identity is an act that requires one to rewrite history in personal terms.
About the Author
Christopher Bursk is the author of seven previous books of poetry, including Cell Count and Ovid at Fifteen.  He is the recipient of NEA, Guggenheim, and PEW Fellowships.  Bursk is professor of English at Bucks County Community College in Pennsylvania.
Praise For The Improbable Swervings of Atoms (Pitt Poetry Series)…
"I fell in love with this book from the first page, and stayed in love right through. The Improbable Swervings of Atoms is hilarious and tragic and confused, just like all our lives, so full of options and cul-de-sacs, here in America. In this saga of boy-becoming-man, the poet shakes hands with Lucretius' great work 'On the Nature of Things,' while tracking the winding paths of family, sexuality, politics, history, television, philosophy, and so much more, in language relentlessly crisp yet achingly vulnerable."
—Alicia Suskin Ostriker
"What he says of Lucretius we could easily apply to Christopher Bursk himself: that he loves this world for its 'doors flung open where no doors seem possible.' The Improbable Swerving of Atoms is full of highly charged poems that stir up surprising connections, explore individual growth in an historical context, so that solitary life is enlarged and history is given a concrete and palpable form.  These poems are rich, daring, ironic, impassioned and deliciously obsessive.   Christopher Bursk carries his learning lightly, with the kind of generosity that is willing to be heartbroken over the vulnerabilities and wounds of others. Reading these poems, we are all enlarged. The door flung open is the door to the human heart."
—Betsy Sholl
"A magic lantern of a book, many of Bursk's lyrical evocations of a mid-century childhood-360 degrees of erotic; fearless, sad and/or funny as hell-and the flip-side adult experience are simultaneously so personal, so public, so beautifully choreographed and original, I am stunned by their accomplishment.  The Improbable Swerving of Atoms is a brilliant collection."
—Roger Weingarten
or
Not Currently Available for Direct Purchase