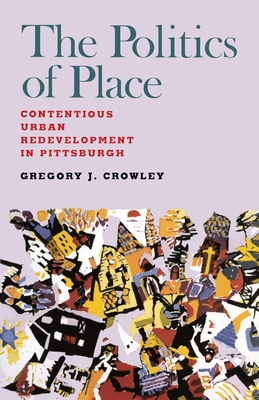 The Politics of Place
Contentious Urban Redevlopment in Pittsburgh
Paperback

* Individual store prices may vary.
Description
In urban America, large-scale redevelopment is a frequent news item.  Many proposals for such redevelopment are challenged—sometimes successfully, and other times to no avail.  The Politics of Place considers the reasons for these outcomes by examining five cases of contentious redevelopment in Pittsburgh, Pennsylvania, between 1949 and 2000.
In four of these cases, the challengers to redevelopment failed to create the conditions necessary for strong democratic participation. In the fifth case—the proposed reconstruction of Pittsburgh's downtown retail district (1997–2000)—challengers succeeded, and Crowley describes the crucial role of independent nonprofit organizations in bringing about this result.
At the heart of Crowley's discussion are questions central to any urban redevelopment debate: Who participates in urban redevelopment, what motivates them to do so, and what structures in the political process open or close a democratic dialogue among the stakeholders? Through his astute analysis, Crowley answers these questions and posits a framework through which to view future contention in urban redevelopment.
Praise For The Politics of Place: Contentious Urban Redevlopment in Pittsburgh…
"Crowley's book on the role of contentious politics in urban redevelopment makes a significant advance in understanding governance and urban politics. Social movement theory requires us to rethink urban regime theory by examining how politics from below get incorporated into policy. Crowley updates the important story of Pittsburgh's redevelopment as he examines the newly contested role of eminent domain as a tool for urban redevelopment. This is a crucial case that urban planners and activists will want to learn about. Crowley's book, The Politics of Place, is empirically sophisticated and well-grounded and presents a new approach to urban studies."
—Louise Jezierski, Michigan State University

"How do citizens exercise voice when institutional mechanisms for participation are absent?  Through an engaging analysis of urban development projects in Pittsburgh, Crowley demonstrates how political contention can generate democratic participation.  Skillfully combining social movement theory with political analysis, Crowley unearths the conditions under which this process can occur and the functions that participation can serve.  A must read for anyone interested in the future of local democracy."
—Barbara Ferman, Temple University
University of Pittsburgh Press, 9780822958901, 224pp.
Publication Date: November 22, 2005
About the Author
Gregory J. Crowley is director of research at the Coro Center for Civic Leadership in Pittsburgh, Pennsylvania.