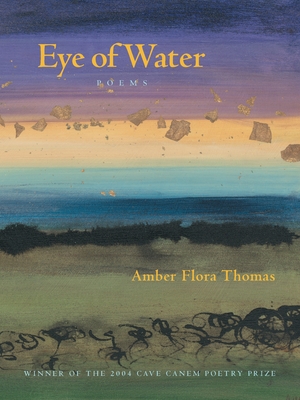 Eye of Water (Pitt Poetry Series) (Paperback)
University of Pittsburgh Press, 9780822958932, 96pp.
Publication Date: October 15, 2005
* Individual store prices may vary.
Description
Winner of the 2004 Cave Canem Poetry Prize
The poems in Eye of Water are derived from the narrator's experiences in what she calls her "waking."  She traces inspiration to "the beginning of myth, to Eve in the Garden of Eden" and states: "We could spend our lives unraveling the mistake and discover that life was one great big 'chore,' and inescapable. And the path is full of missteps and accidents because we cannot (or prefer not to) remember all that got us to that moment.  My body seems to be a symptom of the past, so no matter who touches me, all the ghosts are waiting there. The 'chore' becomes how to survive despite the flaws of our humanness that makes us brutal at times."
About the Author
Amber Flora Thomas is the winner of the 2004 Cave Canem Poetry Prize, the Ann Stanford Poetry Prize, and the Relia Lossy Poetry Award.  She has an MFA in poetry writing from Washington University in St. Louis.
Praise For Eye of Water (Pitt Poetry Series)…
"It is wonderful to see that Amber Flora Thomas' Eye of Water isn't a blurred vision, that it indeed enlightens through mature reflection and measured insight. This lyrical voice knows water as life and redemption, and each line here seems like a divining rod that shows us where personal and public truths are found. Eye of Water is a rewarding tour de force."
—Yusef Komunyakaa
"In Eye of Water Amber Flora Thomas has written one of her generation's best first books. 'We are invented / by what we let pass through us,' Thomas says, and a sensory world passes through her poems-regal, yet warm, majestic and domestic, sophisticated, emotional, and wise. Intensely crafted, Thomas's poems thrive on multiple levels of truths in myriad angles. They are literally dazzling. Thomas makes a breathtaking debut with this collection."
—Molly Peacock
"'We are invented/by what we let pass through us,' says Amber Flora Thomas.  Just so, the world is invented anew as it passes through this poet's wryly fixed and clear eye, to be returned to us via the poet's decidedly original voice, as it sings to us of that incidental landscape, the body-the body as it routinely 'betrays its own purpose.'  And we forgive it, we trust in it again.  Which is to say this is also a book about faith and the human struggle for it.  An impressive debut."
—Carl Phillips
"Amber Flora Thomas is simply amazing. She captures the natural with incredible vision and clarity, vivacity and almost clairvoyance."
—North American Review
"Thomas' poetry doesn't just awaken our sensory perceptions. It pries them open mercilessly and we are left reeling, reborn into what feels like a brand new world with objects that we have never experienced. . . We can't help but be grateful--because [Thomas] has arrived onto the poetry scene."
—Apalachee Review
"Highly polished and accomplished, an elegiac work that has the knowing tone of an old master. A remarkably self-assured first collection."
—Lambda Book Report
"One of the most remarkable things about 'Eye of Water' [is] a harmonic counterpoint betwween beauty and violence. Deserves all the praise one can offer and more."
—American Poet
 
or
Not Currently Available for Direct Purchase