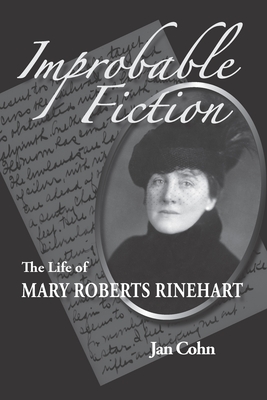 Improbable Fiction
The Life of Mary Roberts Rinehart
Paperback

* Individual store prices may vary.
Description
The mystery stories and other popular fiction of Mary Roberts Rinehart (1876-1958) brought her wealth and fame, but she was much more than a writer. She was a well-known American, respected and loved during a time when few women achieved national influence.
Her early life was conventional enough. Trained as a nurse, she met and married a physician, with whom she had three sons. She was living the stereotypical life of a young matron in Allegheny (now part of Pittsburgh), when her husband's investments evaporated during a stock market crash. She began writing as a means to supplement the family income.
Rinehart became a prolific writer. In addition to her mysteries, she wrote serious fiction, plays, poems, magazine articles, and editorials. Her regular contributions to the Saturday Evening Post were immensely popular and helped the magazine mold middle-class taste and manners.
In this fascinating account of a woman ahead of her time, Cohn illuminates the tensions that pervaded Rinehart's life. Rinehart's commercial success conflicted with her domestic roles of wife and mother; she often endured periods of illness and depression but also pursued adventure, including a job as the first woman war correspondent at the Belgian front during World War I. Throughout, Cohn presents Rinehart as a woman of many complexities whose zest for life always prevailed.
Praise For Improbable Fiction: The Life of Mary Roberts Rinehart…
"She [Cohn] is particularly sensitive to recurrent motifs and issues in the large corpus of Rinehart's work, and that sensitivity, together with the chronological bibliography appended to the study, will be welcomed by avid readers of mystery or suspense fiction as well as by specialists in popular literature and culture. On the whole, this biography is well done: it is at once scholarly and popular, and it is therefore suited for large academic libararies and public libraries with good collections of Rinehart's work."
—Choice

"This is the impeccably researched story of a prolific writer. Jan Cohn . . . utilizes archival sources, materials from Rinehart's friends and family, and in-depth interviews with Rinehart's two sons (the founders of Farrar & Rinehart Publishing in New York City) in this lucid biography."
—Best Sellers

"This detailed, well-annotated account of Rinehart's public and private lives will complement a library's collection."
—Library Journal
University of Pittsburgh Press, 9780822959120, 293pp.
Publication Date: December 28, 2005
About the Author
Jan Cohn was G. Keith Funston Professor of American Literature and American Studies at Trinity College and the author of four other books, including Creating America (1989).