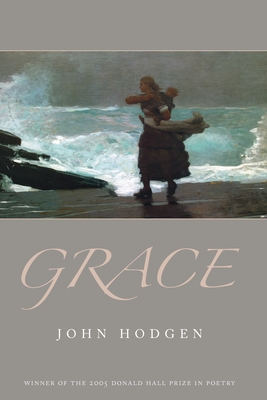 Grace (Pitt Poetry Series) (Paperback)
University of Pittsburgh Press, 9780822959328, 72pp.
Publication Date: August 7, 2006
* Individual store prices may vary.
Description
Winner of the 2005 Donald Hall Prize in Poetry.
Grace is John Hodgen's third book of poetry. He is a poet of extreme contrasts, offering us the dregs of despair, yet instantly recalling hope in the beauty of nature or in a moment in time when all is right, when we realize grace. In "For the Leapers" the narrator relates, "We will fall past the angels, / we will fall from such height, / our tears will lift up from our eyes. / We will fall straight through hell. / And then we will rise." Hodgen's poems roam through history, religion, man-made disasters, baseball, pop culture, and Wal-Marts, on paths that come full circle with remarkable completeness, maturity, and dexterity.
About the Author
John Hodgen is visiting assistant professor of English at Assumption College. He is the author of two previous books of poetry: In My Father's House, winner of the Bluestem Award, and Bread Without Sorrow, winner of the Balcones Poetry Prize. Hodgen is the recipient of numerous other awards, including the Foley Poetry Prize, the Ruth Stone Poetry Prize, the Grolier Prize, an Arvon Foundation Award, and the 2000 Massachusetts Cultural Commission Artist Foundation Grant in Poetry.
Praise For Grace (Pitt Poetry Series)…
"Eclectic, introverted, and original. His voice, with all its commercialisms and idiosyncrasies, is distinct and sincere; his experience is authentic and compensatory. He accomplishes the most a poet can hope for."
--Sahara
Hodgen has penned amasterful work that has left me deeply moved.
--Wilderness House Literary Review
"Hodgen's poems countermand the dictates of mass culture that impress upon readers images of airbrushed and Photoshopped perfection. [His] assembled imager of the common aspects of life . . . reflect the sublime sense of grace one can attain by paying close attention to the most familiar things."
--ForeWord
"The poems in Grace are energetic and intelligent. At their best, they manifest the kind of eloquence and spaciousness in the poetry by Walt Whitman and C. K. Williams. Here the poet shows us a world shaded by darkness and fractured by violence, but not devoid of the light of hope and dream. This is a voice that speaks directly from the heart." 
—Ha Jin
"John Hodgen's beautiful book is a reminder that the elegiac exists not to invoke sadness, but to open and, finally, celebrate our shared experience of the great depth of feeling loss reveals in us.  Few poets have rung this bell with the silver and loving precision to be found in Grace.  Poem after poem is so charged with affectionate clarity that the whole book breaks, like a wave, toward a kind of atonement."
—Christopher Howell
"John Hodgen's Grace presents an operatic cast that includes Abraham Lincoln, the poet's family, Harpo Marx, Boris Karloff, Boxcar Willie, and Garbo—to name a few—and a wide range of settings from Fenway Park in Boston, to Florence and Rome, to 'backwoods Tennessee' and the 'Coolawhatchie Blimpie Gas n' Go.'  Through lively diction and skillful work with form, Hodgen turns zaniness to tenderness; loneliness to joy. This surprising, welcome book of poems is full of thanksgiving, charm, and much good grace."
—Maggie Anderson
"Hard and dark as the world of these poems often is, Hodgen manages again and again to somehow transform the crucified world into a dazzling vortex of language and syntax and yet authentic shivelights of grace. Here is a unique and unmistakable voice for our moment."
—Paul Mariani
or
Not Currently Available for Direct Purchase