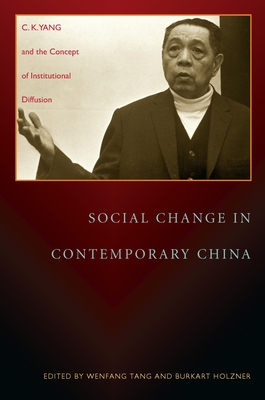 Social Change in Contemporary China (Paperback)
C.K. Yang and the Concept of Institutional Diffusion
University of Pittsburgh Press, 9780822959335, 336pp.
Publication Date: December 10, 2006
Other Editions of This Title:
Hardcover (12/10/2006)
* Individual store prices may vary.
Description
Social Change in Contemporary China offers a wide-ranging examination of Chinese institutional change in areas of education, religion, health care, economics, labor, family, and local communities in the post-Mao era. Based on the pioneering work of sociologist C. K. Yang (1911–1999), and his institutional diffusion theory, the essays analyze and develop the theory as it applies to both public and private institutions.  The interrelationship of these institutions composes what Yang termed the Chinese "system," and affects nearly every aspect of life. Yang examined the influence of external factors on each institution, such as the influence of Westernization and Communism on family, and the impact of industrialization on rural markets. He also analyzed the impact of public opinion and past culture on institutions, therein revealing the circular nature of diffusion. Perhaps most significant are Yang's insights on the role of religion in Chinese society. Despite the common perception that China had no religion, he uncovers the influence of classical Confucianism as the basis for many ethical value systems, and follows its diffusion into state and kinship systems, as well as Taoism and Buddhism.
Writing in the early years of Communism, Yang had little hard data with which to test his theories. The contributors to this volume expand upon Yang's groundbreaking approach and apply the model of diffusion to a rapidly evolving contemporary China, providing a window into an increasingly modern Chinese society and its institutions.
About the Author
Wenfang Tang is associate professor of political science at the University of Pittsburgh.
Burkart Holzner is professor of sociology and public and international affairs  and Distinguished Professor Emeritus of International Studies at the University of Pittsburgh.
Praise For Social Change in Contemporary China: C.K. Yang and the Concept of Institutional Diffusion…
"C. K. Yang was a pioneer in extending the sociological approach to understanding Chinese society. His study of village life in China at the time of land reform remains an important benchmark in the sociological study of Chinese social organization. He wrote insightfully about institutions and institutional change. This volume by leading social scientists of China conveys the impressive scope of Yang's sociological vision and the enduring influence of his scholarship. It also offers an unusually rich selection of essays analyzing contemporary Chinese society, politics, and economy."
—Victor Nee, Cornell University
"This volume has opened up a new angle to bridge the East and West and to gain better understanding of China's economic boom in the past three decades."
--Pacific Affairs
"This is a book from which many people will learn much about contemporary Chinese society as well as sociological studies in China."
--Journal of Political and Military Sociology
"Provides a basis for a deeper understanding of differing preceptions of the changes in Chinese politics and culture. . . . Collectively, the works in this text should be required reading for any educator who attempts to teach about modern China."
—Journal of Chinese Political Science
"A tribute to Yang's work. . . .the value of the collection consists not merely in its contribution to sociological research on contemporary China, but no less in commemorating C.K. Yang who evidently has still much to offer in enhancing our understanding of Chinese society."
—China Information
or
Not Currently Available for Direct Purchase