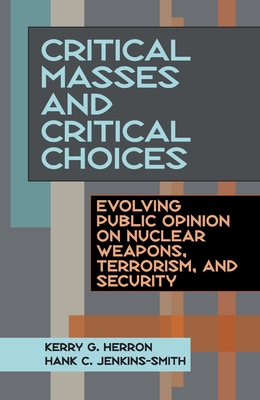 Critical Masses and Critical Choices
Evolving Public Opinion on Nuclear Weapons, Terrorism, and Security
Paperback

* Individual store prices may vary.
Description
Critical Masses and Critical Choices examines American attitudes on issues of national and international security. Based on over 13,000 in-depth interviews conducted over a ten-year period, Kerry Herron and Hank Jenkins-Smith have created a unique and rich set of data providing insights into public opinion on nuclear deterrence, terrorism, and other security issues from the end of the Cold War to the present day.  Their goal is to shed light not only on changes in public opinion about a range of security-related policy issues, but also to gauge the depth of the public's actual understanding of these matters. Prior to this study, the predominant view held that the American people were incapable of articulate and consistent thought on complex political subjects.  This book overturns that notion and demonstrates the sometimes surprisingly cogent positions held by ordinary members of the public on intricate national issues.
The book's solid data, based on long-term studies, combined with crisp writing and often startling conclusions, will appeal to a wide range of readers: scholars, journalists, and policy makers. Critical Masses and Critical Choices is the definitive account of the change in public perceptions on security threats and reactive strategies from the early 1990s to the post 9/11 period. This broad and highly original study will prove an indispensable tool for policy makers and scholars alike.
Praise For Critical Masses and Critical Choices: Evolving Public Opinion on Nuclear Weapons, Terrorism, and Security…
"This is an important book for anyone interested in American public opinion and the critical national security choices that face this country today."
—Stanley Renshon, The City University of New York

"Critical Masses and Critical Choices contains a gold mine of data on public attitudes concerning security threats and terrorism and how the public balances the issue of liberty versus security. In this important book, Herron and Jenkins-Smith provide us with a careful analysis of a unique and valuable set of data about public policy preferences and beliefs as they examine the changing nature of security threats from the end of the Cold War through the rise of global terror threats."
—Neil J. Mitchell, University of Aberdeen

"Since Converse's seminal essay in 1964, political scientists have argued over whether the general public has relatively coherent policy belief systems linking severity and causes of a problem, political ideology, and the probable impacts of policy alternatives. Most traditionalists—myself included—have concluded that they don't. The evidence presented in this book suggests that we are wrong. And wrong in a policy domain, national security, where a tradition of secrecy and lack of personal experience make it especially difficult for the
general public to develop informed preferences."
—Paul Sabatier, University of California, Davis
University of Pittsburgh Press, 9780822959342, 264pp.
Publication Date: July 25, 2006
About the Author
Hank C. Jenkins-Smith is professor of public policy at George H. W. Bush School of Government and Public Service at Texas A&M University .
Kerry G. Herron is a research scientist and adjunct professor at the George H. W. Bush School of Government and Public Service at Texas A&M University.