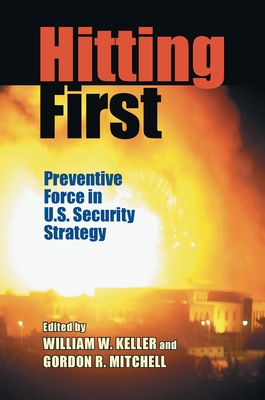 Hitting First
Preventive Force in U.S. Security Strategy (The Security Continuum)
Paperback

* Individual store prices may vary.
Description
The U.S. war in Iraq was not only an intelligence failure—it was a failure in democratic discourse.  Hitting First offers a critical analysis of the political dialogue leading up to the American embrace of preventive war as national policy and as the rationale for the invasion and occupation of Iraq. Taking as its point of departure the important distinction between preemptive and preventive war, the contributors examine how the rhetoric of policy makers conflated these two very different concepts until the public could no longer effectively distinguish between a war of necessity and a war of choice.
Although the book focuses on recent events, Hitting First takes into consideration the broader historical, ethical, and legal context of current American policies. Precedents are examined for preventive military action based on conventional as well as nuclear, biological, and chemical weapons threats. The authors also consider recent examples of the rhetoric of "humanitarian intervention," which have tended to undermine traditional notions of national sovereignty, making purportedly "morally justifiable" actions easier to entertain.  Intelligence gathering and its use, manipulation, and distortion to suit policy agendas are also analyzed, as are the realities of the application of military force, military requirements to sustain a policy of preventive war, and post-conflict reconstruction.
Hitting First presents a timely and essential view of the lessons learned from the failures of the Iraqi conflict, and offers a framework for avoiding future policy breakdowns through a process of deliberative public and governmental debate within a free market of ideas. The critiques and prescriptions offered here provide a unique and valuable perspective on the challenges of formulating and conduct of national security policy while sustaining the principles and institutions of American democracy. This collection will appeal to students and scholars of American foreign policy, international relations, political communication, and ethics.

Praise For Hitting First: Preventive Force in U.S. Security Strategy (The Security Continuum)…
"Readers from all academic and social spheres will find this volume accessible, informative, and thought-provoking. The editors have woven the central themes of the book throughout each of the chapters in remarkable fashion."
--Argumentation & Advocacy

"Hitting First breaks new ground in exposing political and semantic manipulations on the road to war in Iraq, the dumbing-down of threat 'imminence,' the covering up of internal dissent, skill in pulling certitude from uncertainty, and success in controlling the public case for war.  Iran's new prominence as a possible target for American-Israeli first strikes makes all this particularly prescient and timely."
—Thomas L. Hughes, former Assistant Secretary of State for Intelligence and Research

"As an invaluable dissection of the theory and practice of preventive war, this book is an important guide to understanding past misguided uses of preventive force and to asking the right questions before the next time it is used."
—Paul R. Pillar, former National Intelligence Officer for the Near East and South Asia
University of Pittsburgh Press, 9780822959366, 360pp.
Publication Date: August 7, 2006
About the Author
William W. Keller is Wesley W. Posvar Professor of International Security Studies and director of the Matthew B. Ridgeway Center for International Security Studies at the University of Pittsburgh.
Gordon R. Mitchell is associate professor of communication and director of debate at the University of Pittsburgh.
or
Not Currently Available for Direct Purchase