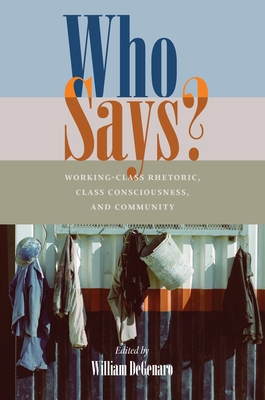 Who Says? (Paperback)
Working-Class Rhetoric, Class Consciousness, and Community (Composition, Literacy, and Culture)
University of Pittsburgh Press, 9780822959380, 304pp.
Publication Date: January 8, 2007
* Individual store prices may vary.
Description
In Who Says?, scholars of rhetoric, composition, and communications seek to revise the elitist "rhetorical tradition" by analyzing diverse topics such as settlement house movements and hip-hop culture to uncover how communities use discourse to construct working-class identity. The contributors examine the language of workers at a concrete pour, depictions of long-haul truckers, a comic book series published by the CIO, the transgressive "fat" bodies of Roseanne and Anna Nicole Smith, and even reality television to provide rich insights into working-class rhetorics. The chapters identify working-class tropes and discursive strategies, and connect working-class identity to issues of race, gender, and sexuality. Using a variety of approaches including ethnography, research in historic archives, and analysis of case studies, Who Says? assembles an original and comprehensive collection that is accessible to both students and scholars of class studies and rhetoric.
About the Author
William DeGenaro is assistant professor of rhetoric and composition at the University of Michigan, Dearborn.
Praise For Who Says?: Working-Class Rhetoric, Class Consciousness, and Community (Composition, Literacy, and Culture)…
"Impressive. The diversity of research approaches to social class itself is exemplary. . . . A welcome collection, one a long time coming."
--JACw
In Who Says?, scholars of rhetoric, composition, and communications seek to revise the elitist "rhetorical tradition" by analyzing diverse topics such as settlement house movements and hip-hop culture to uncover how communities use discourse to construct working-class identity. The contributors examine the language of workers at a concrete pour, depictions of long-haul truckers, a comic book series published by the CIO, the transgressive "fat" bodies of Roseanne and Anna Nicole Smith, and even reality television to provide rich insights into working-class rhetorics. The chapters identify working-class tropes and discursive strategies, and connect working-class identity to issues of race, gender, and sexuality. Using a variety of approaches including ethnography, research in historic archives, and analysis of case studies, Who Says? assembles an original and comprehensive collection that is accessible to both students and scholars of class studies and rhetoric.
—Jennifer Beech, University of Tennessee at Chattanooga
or
Not Currently Available for Direct Purchase