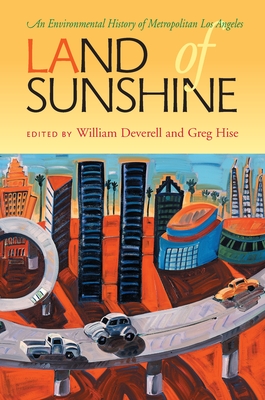 Land of Sunshine (Paperback)
An Environmental History of Metropolitan Los Angeles (Pittsburgh Hist Urban Environ)
University of Pittsburgh Press, 9780822959397, 360pp.
Publication Date: June 30, 2006
* Individual store prices may vary.
Description
Most people equate Los Angeles with smog, sprawl, forty suburbs in search of a city-the great "what-not-to-do" of twentieth-century city building. But there's much more to LA's story than this shallow stereotype. History shows that Los Angeles was intensely, ubiquitously planned. The consequences of that planning-the environmental history of urbanism--is one place to turn for the more complex lessons LA has to offer.
Working forward from ancient times and ancient ecologies to the very recent past, Land of Sunshine is a fascinating exploration of the environmental history of greater Los Angeles. Rather than rehearsing a litany of errors or insults against nature, rather than decrying the lost opportunities of "roads not taken," these essays, by nineteen leading geologists, ecologists, and historians, instead consider the changing dynamics both of the city and of nature.
In the nineteenth century, for example, "density" was considered an evil, and reformers struggled mightily to move the working poor out to areas where better sanitation and flowers and parks "made life seem worth the living."
We now call that vision "sprawl," and we struggle just as much to bring middle-class people back into the core of American cities. There's nothing natural, or inevitable, about such turns of events. It's only by paying very close attention to the ways metropolitan nature has been constructed and construed that meaningful lessons can be drawn. History matters.
So here are the plants and animals of the Los Angeles basin, its rivers and watersheds. Here are the landscapes of fact and fantasy, the historical actors, events, and circumstances that have proved transformative over and over again. The result is a nuanced and rich portrait of Los Angeles that will serve planners, communities, and environmentalists as they look to the past for clues, if not blueprints, for enhancing the quality and viability of cities.
About the Author
William Deverell, professor of history at the University of Southern California and director of the Huntington-USC Institute on California and the West, is the author of Whitewashed Adobe: The Rise of Los Angeles and the Remaking of Its Mexican Past and editor of the Blackwell Companion to the American West. With Greg Hise, he coauthored Eden by Design: The 1930 Olmsted-Bartholomew Plan for the Los Angeles Region.
Greg Hise is an urban historian in the School of Policy, Planning, Development at the University of Southern California where he holds joint appointments in the departments of history and geography. He is the author of Magnetic Los Angeles: Planning the Twentieth-Century Metropolis (awarded the Spiro Kostof Prize and Pflueger Award) and a coeditor of Rethinking Los Angeles.
Praise For Land of Sunshine: An Environmental History of Metropolitan Los Angeles (Pittsburgh Hist Urban Environ)…
"Since ancient times, great cities have been shaped by their environments.  But cities have also exacted their price.  In these astute and very necessary essays, leading experts who are also good writers tackle important questions regarding the origins, rise, present circumstances and future sustainability of the second largest metropolitan region in the nation. No one can understand the City of Angels and its attendant communities without reference to this pioneering book."
—Kevin Starr, University Professor and Professor of History, University of Southern California, Author, Americans and the California Dream series
"A powerful and compelling insight into how the greater Los Angeles area from prehistory to the present has succeeded, failed, and compromised at environmental sustainability."
—Norris Hundley, UCLA

"The collection offers a strong arguement for the continued relevance and vitality of serious writing about Los Angeles, and of promise for the editor's enterprise in urban environmental history."
--Historical Geography
or
Not Currently Available for Direct Purchase