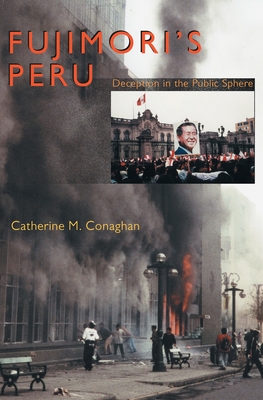 Fujimori's Peru
Deception in the Public Sphere (Pitt Latin American Series)
Paperback

* Individual store prices may vary.
Description
Alberto Fujimori ascended to the presidency of Peru in 1990, boldly promising to remake the country. Ten years later, he hastily sent his resignation from exile in Japan, leaving behind a trail of lies, deceit, and corruption. While piecing together the shards of Fujimori's presidency, prosecutors uncovered a vast criminal conspiracy fueled by political ambition and personal greed.
The Fujimori regime managed to maintain a facade of democracy while systematically eviscerating democratic institutions and the rule of law through legal subterfuge, intimidation, and outright bribery. The architect of this strategy was Fujimori's notorious intelligence advisor, Vladimiro Montesinos. With great skill, Fujimori and Montesinos created the appearance of a democratic public sphere but ensured it would work only to suit their personal motives. The press was allowed to operate, but information exchange was under strict control. The more government officials tampered with the free flow of ideas, the more they inadvertently exposed the ills they were trying to cover up. And that proved to be their downfall.
Merging penetrating analysis and a journalist's flair for narrative, Catherine Conaghan reveals the thin line between democracy and dictatorship, and shows how public institutions can both empower dictators and bring them down.
Praise For Fujimori's Peru: Deception in the Public Sphere (Pitt Latin American Series)…
 "This riveting book illuminates the extraordinary rise and fall of Peru's Alberto Fujimori and Vladimiro Montesinos. Conaghan probes a serious challenge facing not only Peru but many countries in the world today—elites' moral decay, abetting a corrupt government's capacity to maintain a veneer of legitimacy. Required reading for scholars, and will engage students and informed publics throughout the hemisphere."
—Cynthia McClintock, George Washington University
 "A fascinating account. Conaghan effectively demonstrates how the public sphere, through its domestic and international dimensions, can be used to buttress authoritarianism as well as to undermine it."
—Philip Oxhorn, McGill University
"Conaghan has provided the scholarly community with a classic, required reading for all supporters of democracy as a case study of the multiple ways a few determined individuals can manipulate the public sphere and use democratic institutions for the explicit purpose of undermining them."
--Latin American Politics and Society
University of Pittsburgh Press, 9780822959434, 328pp.
Publication Date: July 30, 2006
About the Author
Catherine M. Conaghan, professor of political studies at Queen's University at Kingston, Ontario, was an election observer in Peru for the 1995 and 2000 elections and was the editor of the Web site Peru Election 2000.