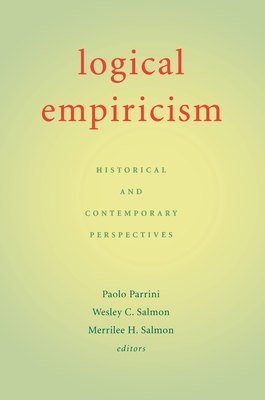 Logical Empiricism (Paperback)
Historical and Contemporary Perspectives
University of Pittsburgh Press, 9780822959496, 408pp.
Publication Date: July 10, 2010
Other Editions of This Title:
Hardcover (7/20/2003)
* Individual store prices may vary.
Description
Logical empiricism, a program for the study of science that attempted to provide logical analyses of the nature of scientific concepts, the relation between evidence and theory, and the nature of scientific explanation, formed among the famed Vienna and Berlin Circles of the 1920s and '30s and dominated the philosophy of science throughout much of the twentieth century. In recent decades, a "post-positivist" philosophy, deriding empiricism and its claims in light of more recent historical and sociological discoveries, has been the ascendant mode of philosophy and other disciplines in the arts and sciences.

This book features original research that challenges such broad oppositions. In eleven essays, leading scholars from many nations construct a more nuanced understanding of logical empiricism, its history, and development, offering promising implications for current philosophy of science debates.

Tapping rich resources of unpublished material from archives in Haarlem, Konstanz, Pittsburgh, and Vienna, contributors conduct a deep investigation into the origins and development of the Vienna and Berlin Circles. They expose the roots of the philosophy in such varied sources as Cassirer, Poincaire, Husserl, Heidegger, and Wittgenstein. Important connections between the empiricists and other movements--neo-empiricism, British empiricism--are vigorously explored.

Building on these historical studies, a critical reevaluation emerges that shrinks the distance between old and new philosophers of science, between "analytic" and "Continental" philosophy. A number of compelling recent debates, including those involving Kuhn, Feyerabend, Hesse, Glymour, and Hanson, are reopened to show the ways in which logical empiricist theory can still be validly applied.

Logical Empiricism is the result of a remarkable conference, convened in the spirit of reflection and international cooperation, that took place in Florence, Italy, in 1999.
About the Author
Paolo Parrini, full professor of theoretical philosophy at the University of Florence and past president of the Italian Society of Analytical Philosophy, is the author of numerous works on epistemology, philosophy of science, and history of science.
Wesley C. Salmon was University Professor of Philosophy, Emeritus, at the University of Pittsburgh at the time of his death in 2001. He is best known for his work on scientific explanation and causation.
Merrilee H. Salmon, professor emerita of history and philosophy of science at the University of Pittsburgh, is the author of Introduction to Logic & Critical Thinking, Fourth Edition, and coauthor of Introduction to Philosophy of Science, among her many other publications.
Praise For Logical Empiricism: Historical and Contemporary Perspectives…
"A nicely balanced collection that combines careful historical study with an eye on current debates in the philosophy of science and mind."
—Vienna Circle Institute Yearbook
"Of special interest to anyone interested in the history of 20th-century philosophy or in logical empiricism. Recommended."
—Choice
"Should not be missed by anyone interested in logical empiricism, or in the history and legacy of analytic philosophy more generally."
—Erich Reck, University of California, Riverside
or
Not Currently Available for Direct Purchase