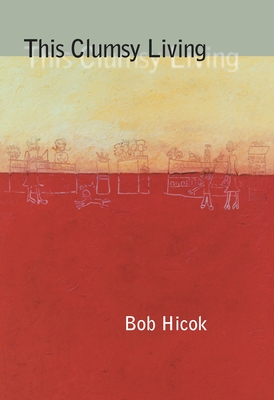 This Clumsy Living (Pitt Poetry Series) (Paperback)
University of Pittsburgh Press, 9780822959533, 112pp.
Publication Date: February 1, 2007
* Individual store prices may vary.
Description
Winner of the 2008 Bobbit National Poetry Prize.
"Few others in contemporary poetry are so brilliantly able to combine wit and weight, to charge the language so it virtually glows in the dark. Hicok's poems just plain rock. They rock because they are gorgeous. They rock because they are sad and turn on the radio. They dance our 'clumsy living' with our shadows and our isolations to a music that always, always remembers the original delight in which 'the feel of things, if [we] cherish, helps [us] live / more like a minute than a clock.'"--Beckian Fritz Goldberg
About the Author
Bob Hicok is assistant professor of English at Virginia Tech University. He is the author of Insomnia Diary, Animal Soul, Plus Shipping, and The Legend of Light. A finalist for the National Book Critics Circle Award, Hicok is the recipient of the Felix Pollak Prize, an NEA Fellowship, the Jerome J. Shestack Prize, and two Pushcart Prizes. His poems have appeared in three volumes of Best American Poetry.
Praise For This Clumsy Living (Pitt Poetry Series)…
" The arrival of This Clumsy Living is cause for celebration, as it firmly places [Hicok] among a collection of astute poets with a keen eye for both the common and the extraordinary, and confirms these poems, at turns playful and disturbing though always emotionally charged, as some of the finest being written today."
--American Book Review
"Bob Hicok's poetry is a fleeting comfort, a temporary solace from the chaos of the world. Smart, honest, powerfully inventive, his writing asks the biggest questions while acknowledging that there are no answers beyond the imposed structure of the page."
--Los Angeles Times
Hicok's new collection will further broaden the reputation of a poet already celebrated at mid-career; his Animal Soul was nominated for a National Book Critics Circle award in 2002. Hicok is known for his muscular, witty, and charming language, and if poetry is a surrealist mechanism made of words, then this is a perfect poet. But is poetry such a mechanism? Though Hicok never misses a chance to make fun and to have fun, his poems offer a great deal more than ready playfulness. What elevates Hicok above many talented—but limited—pyrotechnists is his brave openness toward his (and our) feelings. He does not merely show off his tricks in front of the world; he embraces it. As he says in a poem about cancer, "There is a piece of a second/ during which a jet is not flying/ nor is it on the ground.// I'm working on a theory/ that no one can die/ inside that piece of a second.// If you are comforted by this thought you are welcome/ to keep it." Ultimately, this collection works because it dwells on human experience and because at its best the language is charged with unforgettably lyrical wisdom. Recommended for all poetry collections.
—Library Journal
"Disarmingly quotable. . . . Offers an unruly and winning combination of brio and bizarrie, halfway between Billy Collins and Dean Young."
--Publishers Weekly
"At his best, [Hicok] has always fused deeply wounded moments of pathos with an oddly welcome levity, much like everybody's favorite uncle who's never afraid to tell a good joke at a funeral, even if it's his wife lying in the casket. And the same can be said of 'This Clumsy Living', perhaps Hicok's most obscure and mature book to date. Most notably, and with a heightened political consciousness in tow, these poems meditate on the tyranny of the human condition in the early twenty-first century."
—Barn Owl Review