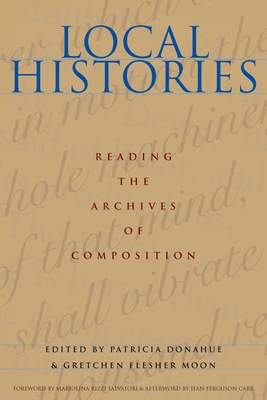 Local Histories (Paperback)
Reading the Archives of Composition (Composition, Literacy, and Culture)
University of Pittsburgh Press, 9780822959540, 344pp.
Publication Date: June 26, 2007
* Individual store prices may vary.
Description
In Local Histories, the contributors seek to challenge the widely held belief that the origin of American composition as a distinguishable discipline can be traced to a small number of elite colleges such as Harvard, Yale, and Michigan in the mid- to late nineteenth century. Through extensive archival research at liberal arts colleges, normal schools, historically black colleges, and junior colleges, the contributors ascertain that many of these practices were actually in use prior to this time and were not the sole province of elite universities. Though not discounting the elites' influence, the findings conclude that composition developed in many locales concurrently.
Individual chapters reflect on student responses to curricula, the influence of particular instructors or pedagogies in the context of compositional history, and the difficulties inherent in archival research. What emerges is an original and significant study of the developmental diversity within the discipline of composition that opens the door to further examination of local histories as guideposts to the origins of composition studies.
About the Author
Patricia Donahue is professor of English and director of the college writing program at Lafayette College. She is coauthor of The Elements (and Pleasures) of Difficulty and coeditor of Reclaiming Pedagogy: The Rhetoric of the Classroom.

Gretchen Flesher Moon is professor of English, directs the writing center, and coordinates the college-wide writing program at Willamette University.
Praise For Local Histories: Reading the Archives of Composition (Composition, Literacy, and Culture)…
"A stunning achievement--and long overdue. This book does more to dislodge that narrative form from our disciplinary self-consciousness than any other project of its kind."
—Rhetoric Review
"Represents the best that we know about constructing our histories and refiguring our archive. I heartily applaud the writers and editors, and their work."
—Writing on the Edge
"The nineteenth century was full of interesting local composition and rhetoric courses, and this volume attempts to construct an 'alternative' history of composition from efforts at small colleges and normal schools, not just at so-called 'major' universities like Harvard, which so far have received most of the attention. The archival work, and a refreshingly different cast of scholars working in new territory make Local Histories a welcome study."
----John Brereton, Boston Athenaeum
"This valuable collection challenges prior understandings of the history of composition studies as a history of elite institutions only. At a time of increasing pressures to homogenize the standards and outcomes of what continues to be called 'higher education,' Local Histories usefully reminds us to be wary of any particular institution's claims to uniqueness, representativeness, and exemplarity, offering instead a 'complicated and discontinuous array of alternative histories.'"
--Jonathan Monroe, Cornell University
or
Not Currently Available for Direct Purchase