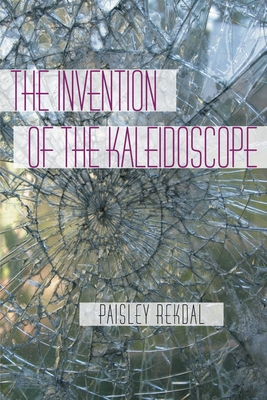 The Invention of the Kaleidoscope (Pitt Poetry Series)
Paperback

* Individual store prices may vary.
Description
The Invention of the Kaleidoscope is a book of poetic elegies that discuss failures: failures of love, both sexual and spiritual; failures of the body; failures of science, art and technology; failures of nature, imagination, memory and, most importantly, the failures inherent to elegiac narratives and our formal attempt to memoralize the lost. But the book also explores the necessity of such narratives, as well as the creative possibilities implicit within the "failed elegy," all while examining the various ways that self-destruction can turn into self-preservation.
Praise For The Invention of the Kaleidoscope (Pitt Poetry Series)…
"Dazzling. Just as a kaleidoscope refracts and changes the object viewed, Rekdal's subjects and protagonists are often unable to tell themselves from the stories they've been told. Rekdal's news poems remind us that 'every simple form could be converted, / beautified by being comgined.'"
--Publishers Weekly
"A devastating personal reflection on love, early adulthood, political unrest, and the problems of artistic transformation. . . . dazzling."
--American Poet
"A book of striking reverie . . . Rekdal's work deeply satisfies, for it witnesses and wonders over the necessary struggles of human awareness and being."
--Rain Taxi
University of Pittsburgh Press, 9780822959557, 88pp.
Publication Date: February 8, 2007
About the Author
Paisley Rekdal is assistant professor of English at the University of Utah. She is the author of a book of essays, The Night My Mother Met Bruce Lee, and two books of poetry, A Crash of Rhinos and Six Girls Without Pants. She is the recipient of the Village Voice Writers on the Verge Award, the University of Georgia Press Contemporary Poetry Series Award, an NEA Fellowship, a Fulbright Fellowship, and the Laurence Goldstein Poetry Prize from Michigan Quarterly Review. Her poems and essays have appeared in the New York Times Magazine, Nerve, Ploughshares, Poetry, Michigan Quarterly Review, Virginia Quarterly Review, and Prairie Schooner, and on NPR, among other places.