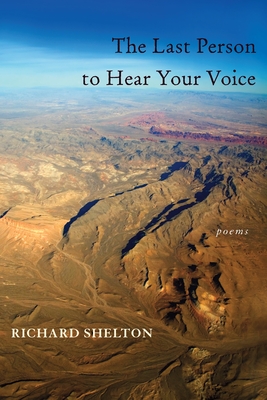 The Last Person to Hear Your Voice (Pitt Poetry Series) (Paperback)
University of Pittsburgh Press, 9780822959571, 120pp.
Publication Date: February 7, 2007
* Individual store prices may vary.
Description
While Shelton has been known primarily for his poems dealing with the landscape of the Southwest and the destruction of that landscape, the poems in this book are much more far-ranging, including many poems dealing with soocial issues (the issue of illegal immigration on our southern border, homelessness), historical events (the war in Iraq, the events of 9/11) and attitudes concerning politics and the environment. The poems are filled with sensory images, engaged in the real world, often ironic or simply off-the-wall, and their tone ranges from deeply sad, as in a requiem for Glen Canyon on the Colorado River, to the wildly funny, as in Brief Communications from My widowed Mother.
About the Author
Richard Shelton is Regents Professor of English at the University of Arizona. He is the author of ten books of poetry and six chapbooks. Shelton is the recipient of numerous awards, including the United States Award from the International Poetry Forum and two NEA Fellowships.
Praise For The Last Person to Hear Your Voice (Pitt Poetry Series)…
"Pointedly political yet richly imagistic, 'The Last Person to Hear Your Voice' functions like a camera in your mind that remembered to take snapshots the last time you traveled the Southwest . . . Shelton's is a book worth savoring."
--Tucson Weekly
"A complete, winding exploration of the role of the individual living both among a society of sufferers and against the backdrop of time. Shelton tries to provide light among the darkness, and does so not only by lightening the situation and wrapping himself in humor, but by staring at the dark long enough for his eyes to adjust to the point where he can make out objects in the shadows."
—The Adirondack Review
"By turns comic, surreal, prophetic, Richard Shelton's poems spring from that place in the mind where high seriousness and play are one. The ordinary opens into an extraordinary lament for our human and political condition. And yet I feel too the joy of invention in these lines, that spirited persistence of the lyric voice that makes our darkness tolerable. The Last Person to Hear Your Voice is a compelling and welcome collection."
--Alison Hawthorne Deming