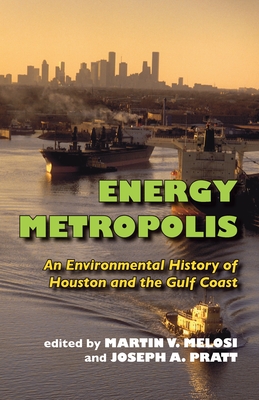 Energy Metropolis
An Environmental History of Houston and the Gulf Coast (Pittsburgh Hist Urban Environ)
Paperback

* Individual store prices may vary.
Description
Houston's meteoric rise from a bayou trading post to the world's leading oil supplier owes much to its geography, geology, and climate: the large natural port of Galveston Bay, the lush subtropical vegetation, the abundance of natural resources. But the attributes that have made it attractive for industry, energy, and urban development have also made it particularly susceptible to a variety of environmental problems. Energy Metropolis presents a comprehensive history of the development of Houston, examining the factors that have facilitated unprecedented growth-and the environmental cost of that development.
The landmark Spindletop strike of 1901 made inexpensive high-grade Texas oil the fuel of choice for ships, industry, and the infant automobile industry. Literally overnight, oil wells sprang up around Houston. In 1914, the opening of the Houston Ship Channel connected the city to the Gulf of Mexico and international trade markets. Oil refineries sprouted up and down the channel, and the petroleum products industry exploded. By the 1920s, Houston also became a leading producer of natural gas, and the economic opportunities and ancillary industries created by the new energy trade led to a population boom. By the end of the twentieth century, Houston had become the fourth largest city in America.
Houston's expansion came at a price, however. Air, water, and land pollution reached hazardous levels as legislators turned a blind eye. Frequent flooding of altered waterways, deforestation, hurricanes, the energy demands of an air-conditioned lifestyle, increased automobile traffic, exponential population growth, and an ever-expanding metropolitan area all escalated the need for massive infrastructure improvements.
The experts in Energy Metropolis examine the steps Houston has taken to overcome laissez-faire politics, indiscriminate expansion, and infrastructural overload. What emerges is a profound analysis of the environmental consequences of large-scale energy production and unchecked growth.
Praise For Energy Metropolis: An Environmental History of Houston and the Gulf Coast (Pittsburgh Hist Urban Environ)…
"A fine compendium of scholarship well focused on a city that not only is interesting in itself as a fast-growing monolith but also provides us with cautionary tales easily applied to other urban areas."
—Technology and Culture

"Energy Metropolis helps us realize that our blinkered rush for energy development has costs that are not at some distance, but are closer to home, next door, right in our backyard. It is sobering to grasp how significantly our daily lives--from our commutes to the patterns of our cities to the hazards we endure during both work and play--are comprised by our endless need for more and more energy."
--Economic Geography

"Melosi and Pratt's work is well-written and thoroughly researched. Any scholar interested in business history, urban studies, and environmental history would find this book a valuable resource."
--Texas Books Review
University of Pittsburgh Press, 9780822959632, 352pp.
Publication Date: June 11, 2007
About the Author
Martin V. Melosi is Hugh Roy and Lillie Cranz Cullen University Professor of History and director of the Center for Public History at the University of Houston. He is the author or editor of fourteen books, including Garbage in the Cities: Refuse, Reform and the Environment, and Effluent America: Cities, Industry, Energy, and the Environment.
Joseph A. Pratt
is Cullen Professor of History and Business at the University of Houston. He is the coeditor of
Offshore Pioneers: A History of Brown & Root Marine,
and
From Texas to the East: A Strategic History of Texas
, among other books.
or
Not Currently Available for Direct Purchase