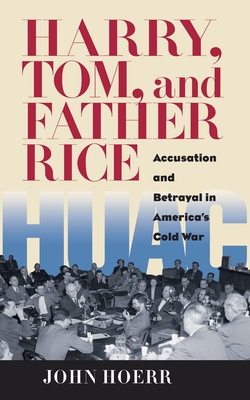 Harry, Tom, and Father Rice
Accusation and Betrayal in America's Cold War
Paperback

* Individual store prices may vary.
Other Editions of This Title:
Hardcover (8/28/2005)
Description
John Hoerr tells the story of three men—his uncle, Congressman Harry Davenport, union leader Tom Quinn, and Father Charles Owen Rice—whose lives became intertwined during the anti-Communist witch hunts of the McCarthy Era. The story helps illuminate one of the more repressive periods in American history, when thousands of Americans guilty only of enlisting in leftist causes were caught up in dragnets cast by overzealous Communist hunters on behalf of the House Un-American Activities Committee and other bodies. Much has been written about well-known cultural figures (the Hollywood Ten), and prominent writers (Arthur Miller and Lillian Hellman) who contended with HUAC. Hoerr tells of mostly ordinary Americans who were largely unknown at the time, but whose stories are nonetheless remarkable.
Writing from personal experience with the title characters, as well as archival research, Hoerr recreates the events of the 1949 HUAC hearings, where rigged testimony by a few workers cast suspicion on their union brothers.  The results would echo through the years, causing people to lose jobs, marriages, and self-respect. Hoerr traces the paths followed by Harry, Tom, and Father Rice and relates their individual experiences to the great conflict between anti-Communist and Communist forces in the American labor movement, leading to the eventual demise of the CIO (Congress of Industrial Organizations).
Praise For Harry, Tom, and Father Rice: Accusation and Betrayal in America's Cold War…
"An ambitious, often riveting account of a neglected piece of history. Hoerr relates the story of three people whose fates intersect in a complex tale of almost Shakespearean proportions."
--Cleveland Plain Dealer
"A valuable contribution to the history of the American worker in the twentieth century. Hoerr…a veteran labor journalist, has become a leading chronicler of the demise of industrial America."
--Pittsburgh Post-Gazette
"Hoerr tells the story brilliantly and modestly. His history detective work. . .  is superb. His grasp of the industrial, political, and cultural history of mid-twentieth-century Pittsburgh is unrivaled. . . . a magnificaent achievement that deserves the widest audience."
--Pennsylvania Magazine of History and Biography
University of Pittsburgh Press, 9780822959663, 344pp.
Publication Date: February 15, 2007
About the Author
John Hoerr is a freelance writer and author with over thirty years of experience as a journalist for UPI, The Daily Tribune, and public television.  His published work includes And the Wolf Finally Came: The Decline of  the American Steel Industry and We Can't Eat Prestige: The Women Who Organized Harvard.
or
Not Currently Available for Direct Purchase