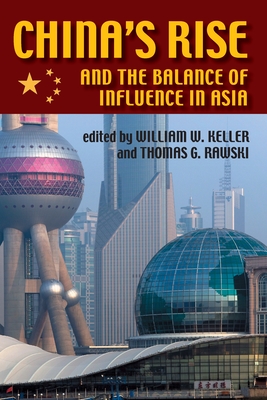 China's Rise and the Balance of Influence in Asia (The Security Continuum)
Paperback

* Individual store prices may vary.
Other Editions of This Title:
Hardcover (6/29/2007)
Description
China's protracted boom and political transformation is a major episode in the history of global political economy.  Beginning in the late 1970s, China experienced a quarter century of extraordinary growth that raised every indicator of material welfare, lifted several hundred million out of poverty, and rocketed China from near autarky to regional and even global prominence.  These striking developments transformed China into a major U.S. trade and investment partner, a regional military power, and a major influence on national economies and cross-national interchange throughout the Pacific region.  Beijing has emerged as a voice for East Asian economic interests and an arbiter in regional and even global diplomacy-from the Asian financial crisis to the North Korean nuclear talks.  China's accession to the World Trade Organization promises to accentuate these trends.
The contributors to this volume provide a multifaceted examination of China in the areas of economics, trade, investment, politics, diplomacy, technology, and security, affording a greater understanding of what relevant policies the United States must develop.  This book offers a counterweight to overwrought concerns about the emerging "Chinese threat" and makes the case for viewing China as a force for stability in the twenty-first century.
Praise For China's Rise and the Balance of Influence in Asia (The Security Continuum)…
"Rawski, Keller, and a highly qualified group of colleagues argue that the U.S. has succeeded all too well in Asia-so well that we must gear up some fresh thinking before we put ourselves out of business in the region.  We built up the free economies of Asia after World War II, and used engagement to turn China into a global trading power. Now what?  Free Asia and socialist China are coming together in a new power configuration that the U.S. can't stop, and needs to join.  This regional perspective takes us beyond the tired China-policy debates over engagement, containment, and hedging and suggests how America can think about benefiting from China's rise."
--Andrew Nathan, Columbia University
"[This volume provides] a new and clearer understanding of China's complex and dynamic emergence as a world leader in the twenty-first century. An unusual combination of expertise in multiple disciplines, current information, and a shared goal of converting the image of China in the minds of American policymakers to that of a mature, stable, constructive leader in the international economy of Asia and the entire world."
--Thomas Gottschang, College of the Holy Cross
"Much light is cast on the whole picture—what China is doing and what U.S. policies should be—by [this] brilliant and useful new book." 
—Dan Simpson, Pittsburgh Post-Gazette
University of Pittsburgh Press, 9780822959670, 328pp.
Publication Date: June 29, 2007
About the Author
William W. Keller is Wesley W. Posvar Professor of International Security Studies and director of the Matthew B. Ridgway Center for International Security Studies at the University of Pittsburgh. He is the author of Arm in Arm: The Political Economy of the Global Arms Trade, The Liberals and J. Edgar Hoover: Rise and Fall of a Domestic Intelligence State, and coeditor of Hitting First: Preventive Force in U.S. Security Strategy.

Thomas G. Rawski is professor of economics and history at the University of Pittsburgh. His books include Economic Growth in Prewar China and China's Transition to Industrialism: Producer Goods and Economic Development in the Twentieth Century.
or
Not Currently Available for Direct Purchase