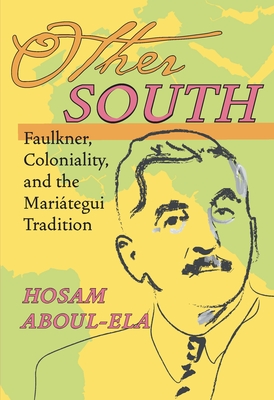 Other South (Paperback)
Faulkner, Coloniality, and the Mariátegui Tradition (Pitt Illuminations)
University of Pittsburgh Press, 9780822959762, 224pp.
Publication Date: October 5, 2007
Other Editions of This Title:
Hardcover (10/5/2017)
* Individual store prices may vary.
Description
Hosam Aboul-Ela provides a startlingly original perspective on Faulkner, examining his work in the transnational context of the "Global South": the geopolitical and economic dynamics of the post-Reconstruction period that link the American South to the larger colonial tradition. Other South thus raises new questions as to the scope and attitude of Faulkner's project, positioning Faulkner's work as an inherent critique of colonialism and emphasizing a more specific conceptualization of coloniality.

Engaging with ideas and thinkers from the former colonies, Aboul-Ela draws on an understanding of economics, social structures, and the colonial/neocolonial status of the Third World, stepping outside the preconceptions of current postcolonial studies to offer a fresh perspective on our shared literary heritage and a new look at an iconic literary figure.
Praise For Other South: Faulkner, Coloniality, and the Mariátegui Tradition (Pitt Illuminations)…
"Other South is a pathbreaking intervention into the field of Faulkner studies. Whereas Faulkner is customarily represented as a product of literary modernism, Aboul-Ela invokes the 'peripheralist aesthetics' fashioned within the Mariátegui tradition to separate him from the Euro-American modernist tradition. By bringing other regions of the Global South into his analysis of U.S. Southern culture, Aboul-Ela raises important questions relating to the colonial economy and the geo-spatial inequalities that determined so much of Faulkner's vision."
--Donald Pease, Dartmouth College
"A fascinating example of the attempts to dislodge the traditional North-South axis of analysis and theoretical authority in order to build a new literary canon. Other South establishes 'a commonality of Souths,' based upon the colonial and neocolonial experiences which shape the aesthetic characteristics of narratives in different traditions. It also produces a critique of 'institutional theory' by ascertaining the methodological and epistemological expediency of a theoretical corpus originated in Latin America that Aboul-Ela calls 'the Mariátegui tradition.' Aboul-Ela uses this critique to analyze a literary corpus of the 'Global South,' which includes narratives by William Faulkner as well as texts from Latin America, the Arab World, and Southern India. A very bold move indeed, because it asserts the epistemological advantage of Third World theory for the understanding of the literatures and cultures of colonial and neocolonial societies."
--Abril Trigo, Ohio State University
or
Not Currently Available for Direct Purchase