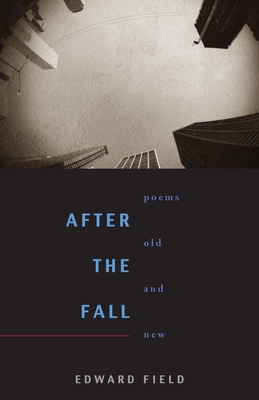 After the Fall (Paperback)
Poems Old and New (Pitt Poetry)
University of Pittsburgh Press, 9780822959809, 205pp.
Publication Date: November 1, 2007
* Individual store prices may vary.
Description
"After the Fall" refers to the twin towers, and is Field's ode to the events that transpired thereafter--the war in Iraq andthe attack on civil rights in America--as well as his own personal struggles over the indignities of aging.

About the Author
Edward Field is the author of more than ten books of poetry, including Counting Myself Lucky and A Frieze for a Temple of Love, and a memoir, The Man Who Would Marry Susan Sontag, and Other Intimate Literary Portraits of the Bohemian Era. He is also coauthor of three fiction books (written with Neil Derrick, published under the pseudonym of Bruce Elliot). He is the recipient of numerous awards, including the W. H. Auden Award, the Bill Whitehead Lifetime Achievement Award, and the Lambda Literary Award.
Praise For After the Fall: Poems Old and New (Pitt Poetry)…
"The last of the old poems in Field's latest selection is "Sorry, I Never Slept with Allen Ginsberg." It's as grand a valediction to the old bohemian as he's likely ever to get, and it forcibly reminds us of another queer, Jewish, radical, New York poet who's much more fun to read—Edward Field! Although he has been as footloose as his famous coeval (many older poems attest to voyages from North Africa to Afghanistan, and one of the newest concludes, "I'll keep going, keep going, keep going . . ."), Field still seems much more of a homebody, writing about pottering about the apartment and the city more than faraway places. When he writes about the (his) body, he is wondrous as Ginsberg but commonplace and funny rather than cosmic and vatic. When he's vulgar (reasonably often), he's like a benign, though filthy, stand-up comic, minus the cynicism. His celebrated Hollywood poems, extrapolating from silver screen "classics" both actual ("Bride of Frankenstein") and conceptual ("Comeback"), are incisively mordant and pitifully moving, masterpieces of camp sensibility. But if humor predominates in his older work, anger suffuses the new poems, written after the fall of the Twin Towers. Because the anger is mastered and channeled into cogent, down-to-earth speech, Field's may be the best 9/11 protest poems yet."
—Booklist

"Edward Field may indeed have something in common with the café patron in one of his poems who sobs 'Je suis vieux!' but he is still producing spry, animated poems, which perfectly mix honesty and playfulness.  Let us stand up, friends, and give his new collection a round of loud applause."
--Billy Collins

"It [After the Fall] is a testimony, or rather a witnessing of a very rich and deep life. Field is a poet that does not take himself too seriously, and that renders his poetry, not only readable, but simply put, great."
--Liberty Press
or
Not Currently Available for Direct Purchase