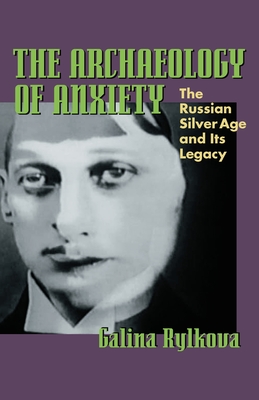 The Archaeology of Anxiety
The Russian Silver Age and its Legacy (Pitt Series in Russian and East European Studies)
Paperback

* Individual store prices may vary.
Description
The "Silver Age" (c. 1890-1917) has been one of the most intensely studied topics in Russian literary studies, and for years scholars have been struggling with its precise definition. Firmly established in the Russian cultural psyche, it continues to influence both literature and mass media. The Archaeology of Anxiety is the first extended analysis of why the Silver Age occupies such prominence in Russian collective consciousness.
Galina Rylkova examines the Silver Age as a cultural construct-the byproduct of an anxiety that permeated society in reaction to the social, political, and cultural upheavals brought on by the Bolshevik Revolution, the fall of the Romanovs, the Civil War, and Stalin's Great Terror. Rylkova's astute analysis of writings by Anna Akhmatova, Vladimir Nabokov, Boris Pasternak and Victor Erofeev reveals how the construct of the Silver Age was perpetuated and ingrained.
Rylkova explores not only the Silver Age's importance to Russia's cultural identity but also the sustainability of this phenomenon. In so doing, she positions the Silver Age as an essential element to Russian cultural survival.
Praise For The Archaeology of Anxiety: The Russian Silver Age and its Legacy (Pitt Series in Russian and East European Studies)…
"Convinces through the sheer breadth of sources analysed. Rylkova proceeds to demonstrate how the unique combination of a vibrant cultural legacy, combined with the loss of the environment in which it thrived, became a projection space, unprecedented in scope, for hopes, dreams and interpretations."
—Europe-Asia Studies

"An impressive feat in synthesizing Russian literature over the century from the 1890s to the 1990s."
—H-Net Reviews

"Galina Rylkova's excellent and much-needed book explores the myth of the  Silver Age in Russian culture . . . fascinating . . . a work of love." --The Russian Review


"Thought-provoking and richly documented. A highly engaging study."
—Slavonic  and East European  Review
University of Pittsburgh Press, 9780822959816, 282pp.
Publication Date: October 3, 2022
About the Author
Galina Rylkova is associate professor of Russian and Slavic Studies at the University of Florida.