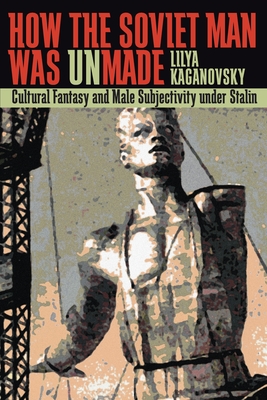 How the Soviet Man Was Unmade
Cultural Fantasy and Male Subjectivity under Stalin (Russian and East European Studies)
Paperback

* Individual store prices may vary.
Description
In Stalinist Russia, the idealized Soviet man projected an image of strength, virility, and unyielding drive in his desire to build a powerful socialist state. In monuments, posters, and other tools of cultural production, he became the demigod of Communist ideology. But beneath the surface of this fantasy, between the lines of texts and in film, lurked another figure: the wounded body of the heroic invalid, the second version of Stalin's New Man. 

In How the Soviet Man Was Unmade, Lilya Kaganovsky exposes the paradox behind the myth of the indestructible Stalinist-era male. In her analysis of social-realist literature and cinema, she examines the recurring theme of the mutilated male body, which appears with startling frequency. Kaganovsky views this representation as a thinly veiled statement about the emasculated male condition during the Stalinist era. Because the communist state was "full of heroes," a man could only truly distinguish himself and attain hero status through bodily sacrifice-yet in his wounding, he was forever reminded that he would be limited in what he could achieve, and was expected to remain in a state of continued subservience to Stalin and the party.

Kaganovsky provides an insightful reevaluation of classic works of the period, including the novels of Nikolai Ostrovskii (How Steel Was Tempered) and Boris Polevoi (A Story About a Real Man), and films such as Ivan Pyr'ev's The Party Card, Eduard Pentslin's The Fighter Pilots, and Mikhail Chiaureli's The Fall of Berlin, among others. The symbolism of wounding and dismemberment in these works acts as a fissure in the facade of Stalinist cultural production through which we can view the consequences of historic and political trauma.
Praise For How the Soviet Man Was Unmade: Cultural Fantasy and Male Subjectivity under Stalin (Russian and East European Studies)…
"Bold and innovative. An intellectual delight: insightful, innovative and compellingly argued."
—Studies in Russian and Soviet Cinema
"An all-too-rare example of engaged and theoretically informed textual analysis backed up by solid archival research. . . a wonderfully impressive, exciting, and  important work."
—The  Russian Review
"A fascinating journey into the gallery of hysterical, damaged and broken male bodies that were at the heart of Stalinist literature and cinema."
—Europe-Asia Studies
"Clearly a pioneering work . . . Because of its theoretical sophistication, the volume will find an audience not only among Slavists but more broadly with those interested in cultural studies and psychoanalysis."
—Journal of Modern History
"What makes her study stand out is the combination of in-depth analylses of the films and novels with postmodern theoretical approaches and cinematic ones. . . . An excellent combination of theory and close reading that provides an invaluable portrait of Soviet masculinity."
—Scope
"While at first glance, it might seem as though 'How the Soviet Man Was Unmade', is primarily an example of cogent and convincing literary analysis, it is also a piece of social and cultural commentary. Relevant to anyone interested in gender ideals, Soviet Realism, and daily life in Stalinist society."
—The Soviet and Post-Soviet Review
University of Pittsburgh Press, 9780822959939, 256pp.
Publication Date: July 15, 2008
About the Author
Lilya Kaganovsky is assistant professor of Slavic, comparative literature, and cinema studies at the University of Illinois.