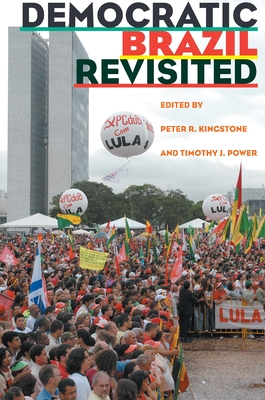 Democratic Brazil Revisited (Pitt Latin American Series) (Paperback)
University of Pittsburgh Press, 9780822960041, 360pp.
Publication Date: October 30, 2008
Other Editions of This Title:
Hardcover (10/30/2008)
* Individual store prices may vary.
Description
As the world's fifth-largest country, Brazil presents a compelling example of democracy in action. In this sequel to their landmark study Democratic Brazil, editors Peter Kingstone and Timothy Power have assembled a distinguished group of U.S.- and Brazilian-based scholars to assess the impact of competitive politics on Brazilian government, institutions, economics, and society.

The 2002 election of Lula da Silva and his Worker's Party promised a radical shift toward progressive reform, transparency, and accountability, opposing the earlier centrist and market-oriented policies of the Cardoso government. But despite the popular support reflected in his 2006 reelection, many observers claim that Lula and his party have fallen short of their platform promises. They have moved to the center in their policies, done little to change the elitist political culture of the past, and have engaged in "politics as usual" in executive-legislative relations, leading to allegations of corruption.

Under these conditions, democracy in Brazil remains an enigma. Progress in some areas is offset by stagnation and regression in others: while the country has seen renewed economic growth and significant progress in areas of health care and education, the gap between rich and poor remains vast. Rampant crime, racial inequality, and a pandemic lack of personal security taint the vision of progress. These dilemmas make Brazil a particularly striking case for those interested in Latin America and democratization in general.
About the Author
Peter Kingstone is associate professor of political science at the University of Connecticut. He is the author of Crafting Coalitions for Reform: Business Preferences, Political Institutions, and Neoliberal Reform in Brazil; editor of Readings in Latin American Politics: Challenges to Democratization; and coeditor, with Timothy J. Power, of Democratic Brazil: Actors, Institutions, and Processes.

Timothy J. Power is University Lecturer in Brazilian Studies and Fellow of St. Cross College, University of Oxford. He is the author of The Political Right in Postauthoritarian Brazil: Elites, Institutions, and Democratization, and coeditor of Exporting Congress? The Influence of the U.S. Congress on World Legislatures.
Praise For Democratic Brazil Revisited (Pitt Latin American Series)…
"Democratic Brazil Revisited is that rare accomplishment, a sequel that improves upon the previous edition. Offering a treasure of new research, the contributors-leading experts of and from Brazil-critically examine the Lula government and the Workers' Party in power. Collectively, their essays illuminate the central paradoxes of contemporary Brazilian democracy: as democratic institutions grow stronger, voters more sophisticated, and economic performance and social policy outputs improve, civil society becomes more disillusioned and severe social, racial, and judicial inequalities persist. This book is an essential reference for every student of contemporary Brazilian politics."
—Frances Hagopian, University of Notre Dame
"No matter what your field, Democratic Brazil Revisited is essential reading for understanding current trends in Brazil. Combining scholarly excellence with clear writing, Kingstone and Power have once again assembled some of the best research for portraying how one of the world's largest, most vibrant, yet most paradoxical democracies functions."
—Kenneth P. Serbin, University of San Diego
or
Not Currently Available for Direct Purchase