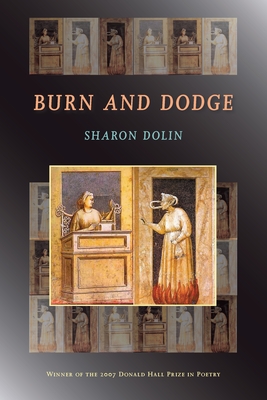 Burn and Dodge (Pitt Poetry Series) (Paperback)
University of Pittsburgh Press, 9780822960058, 80pp.
Publication Date: October 21, 2008
* Individual store prices may vary.
Description
WINNER OF THE 2007 DONALD HALL PRIZE IN POETRY
Selected by Bob Hicok
Burn and Dodge is part serious/part serious play and opens with a frank and occasionally antic exploration of contemporary vices,  such as Guilt, Envy, and Regret. Some poems "dodge" such preoccupations by playing with a nonce form called sonnet/ghazal. The collection contains a sequence of poems called "Current Events," based on newspaper stories. that is also a playful meditation on the nature of the interrogative pronouns (Who, What, Where, When . . . ) as well as another series of homophonic sonnets called "Clare-Hewn," which are aural "translations" of John Clare.
 
About the Author
Sharon Dolin is the author of three previous poetry collections: Realm of the Possible; Serious Pink; and Heart Work, as well as five poetry chapbooks. She is Poet-in-Residence at Eugene Lang College at The New School for Liberal Arts. Dolin also teaches at the Unterberg Poetry Center of the 92nd Street Y in New York City, where she directs The Center for Book Arts Annual Letterpress Poetry Chapbook Competition and is a curator for the Broadsides Reading Series.
Praise For Burn and Dodge (Pitt Poetry Series)…
"Whatever else she does with the American language, Dolin (Heart Work) has fun: the New York City-based poet's fourth volume combines great verbal ingenuity with a vast set of subjects, some quite serious (motherhood, sex) some near the upper limits of light verse (eavesdropping on "the summer au pair"), and some in between (a walking tour of Venice, "Tai Chi in Fog"). At home with the personal lyric, she sounds at least as happy when she can be self-consciously literary: when "Envy Speaks," the personified emotion calls herself "a naked 500-year-old woman/ riding Death, saddled with a quiver of arrows." Dolin works, to witty or masterful effect, in Marianne Moore's syllabic stanzas, a sonnet sequence, ghazals, ultra-short-lined and fragmentary free verse, chatty prose poems, and deliberate imitations (of, among others, Moore, the Portuguese genius Fernando Pessoa, and the English peasant poet John Clare). Dolin's best lines display both learning and wit—sometimes they sound comic, or flirtatious: "A lick over the foot doesn't qualify as a crime,/ though a cigarette butt or a soda can not thrown in a can/ can in the Netherlands." Among contemporary poets, she may appeal both to fans of the very accessibly urbane (say, Deborah Garrison), and to those who admire more demanding wordplay (say, Kay Ryan). Attentive readers will find credible emotions, real problems of divided love and of middle-aged worry, amid the sometimes baroque surfaces of Dolin's poems. But the surfaces matter: they are the gift she brings."
--Publishers Weekly
"Exceedingly fine. . . . I was surprised and delighted by Dolin's language play and the complexity of her ideas. I experienced this book as a game for the brain. I look forward to reading more of Dolin."
—The Feminist Review
"If you're looking for a book of poems that runs the spectrum of poetic modes, you'll find much to love in 'Burn & Dodge.' These poems display a vast grasp and versatility of form, moving deftly among both traditional and experimental poetic modes, yet remaining cohesive throughout."
—Fiction Writers Review
"Speaking plainly, 'Burn and Dodge' is large, and large. The poetry is not only steeped in tradition; it resonates with the demands of form and 'topoi' and thrilling poetic avatars everywhere you look."
—Jacket Magazine
"<I>Burn and Dodge</I> is an apt title for this book. Dolin's poems adroitly move in and out of shadow, shed light, contrast or blend as the context demands. The need to measure is strong in these poems, to examine how we live within the constraints of our emotions and how they get the better of us. Her language is lithe and motored, her meanings channeled by her formal devotions, without ever being reduced to mere accoutrements of form. She writes at the edge of compression, with such pop to her lines that I'm reminded of Auden's definition of poetry-'memorable speech.'"
—Bob Hicok
"Sharon Dolin dons her seven-league boots and leaps confidently over our small fenced-in territories (formalism, L-A-N-G-U-A-G-E, blahblahblah), picking from these gardens as she chooses, and devising wily new recipes of her own."
—Albert Goldbarth
"Sharon Dolin moves between tradition and innovation with dazzling agility, speed, and grace. 'By fire. By stammering. Stoning. By water.' Her poems hook us with their candor and wit. While many are meditations on guilt, regret, and doubt, this work has an innate optimism-a restorative quality-that encourages us to 'lust for lust, hope for / hoping' and 'awaken each day, wanting / to want.'"
—Elaine Equi
or
Not Currently Available for Direct Purchase