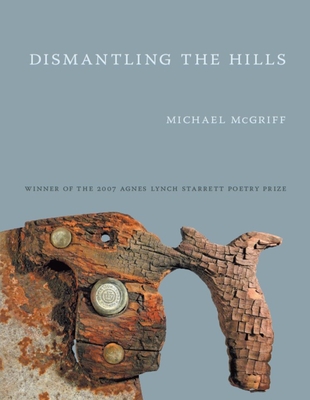 Dismantling the Hills (Pitt Poetry) (Paperback)
University of Pittsburgh Press, 9780822960072, 76pp.
Publication Date: October 1, 2008
* Individual store prices may vary.
Description
WINNER OF THE 2007 AGNES LYNCH STARRETT POETRY PRIZE
Dismantling the Hills is a testament to working-class, rural American life. In a world of machinists, loggers, mill workers, and hairdressers, the poems collected here bear witness to a landscape, an industry, and a people teetering on the edge of ruin. From tightly constructed narratives to expansive and surreal meditations, the various styles in this book not only reflect the poet's range, but his willingness to delve into his obsessions from countless angles Full of despair yet never self-loathing, full of praise yet never nostalgic, Dismantling the Hills is both ode and elegy. McGriff's vision of blue-collar life is one of complication and contradiction, and the poems he makes are authentic, unwavering, and unapologetically American.
About the Author
Michael McGriff was born and raised in Coos Bay, Oregon. He has received a Wallace Stegner Fellowship from Stanford University, a Ruth Lilly Fellowship from The Poetry Foundation, and a Michener Fellowship from the University of Texas at Austin. He is the translator of Tomas Transtromer's The Sorrow Gondola, and his work has appeared in Slate, Agni, Field, the Missouri Review, and Poetry, among other publications.
Praise For Dismantling the Hills (Pitt Poetry)…
"A lyricist at heart, McGriff is a masterful maker of metaphor . . . The result is a swiftly moving volume of poetry that leaves us with a sense of longing . . .for our own childhoods and for those few years before adulthood when it was curiosity, for the natural world and those passing through it, that defined us."
—Third Coast
"The type of collection that makes you feel badly about yourself as a poet. It is so deceptively simple that one easily says, 'Sure, I could have written something like that.' The problem is, "Dismantling the Hills' is actually a deceptively complex volume. It is a collection of poems of place, set almost entirely in a small factory town in Oregon on the Pacific coast. McGriff delivers the sights, sounds, and smells of this coastal area replete with teeming life and the oftentimes dismal weather. But there is majestic beauty in these descriptions, and it is clear that McGriff honors this place as a place--not as mere setting, but as a distinct element of his verse."
—Gently Read Literature
"A powerful first collection of narratives with spark and intelligence."
—Library Journal