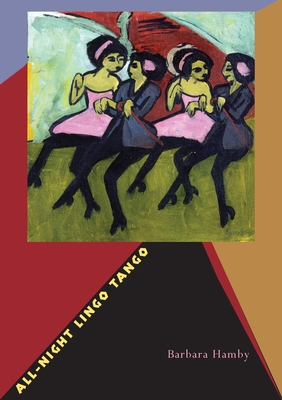 All-Night Lingo Tango (Pitt Poetry Series) (Paperback)
University of Pittsburgh Press, 9780822960171, 88pp.
Publication Date: February 11, 2009
* Individual store prices may vary.
Description
This collection is a love letter to language with poems that are drunk and filled with references to the hyperkinetic world of the twenty-first century. Yet Zeus and Hera tangle with Leda on the interstate; Ava Gardner becomes a Hindu princess; and Shiva, the Destroyer, reigns over all. English is the primary god here, with its huge vocabulary and omnivorous gluttony for new words, yet the mystery of the alphabet is behind everything, a funky puppet masterwho can make a new world out of nothing.
About the Author
Barbara Hamby is writer-in-residence at Florida State University. She is the author of two chapbooks and three previous poetry collections: The Alphabet of Desire; Delirium; and Babel, winner of the 2003 Donald Hall Prize in Poetry.  Her poems have appeared in numerous publications including the Paris Review, the Iowa Review, the Kenyon Review, and Best American Poetry 2000.
Praise For All-Night Lingo Tango (Pitt Poetry Series)…
"Chatty and whimsical, literary and (at its best) laugh-out-loud funny."
—Publishers Weekly
"Swiveling, strumming, and slicing through air like an intimate Alvin Ailey ensemble, Hamby exhales a world the shape of associated conditions and intimate emotions out of her carefully chosen words. The poems are individually stunning. Collected together, they dance."
--Barnes and Noble Review
"Reading Barbara Hamby is like savoring a fine multi-course meal. Her poems are thick and meaty, filled with savory details, but full of subtle nuances only realized on multiple reads. She fuses humor, pop culture, literature, travel, and romance in an ebullient mix."
--Bomb Magazine
"Strap on your dancing shoes before opening Barbara Hamby's fourth collection 'All-Night Lingo Tango.' The language is lush and erotic, as Hamby trips from one allusion and image to another so fast the reader is left breathless and giddy."
—Tallahassee Democrat
"Barbara Hamby triple-somersaults, dives, flips, and swings from rung to rung high over our heads on the flying trapeze. . . . Don't miss [All-Night Lingo Tango] . . . It's a perfect gift to yourself." 
—Portland Writing Examiner
"Combines an intense love affair with language and a consideration of it.Throughout the collection, Hamby has enormous fun with the English language. . . .Anyone who has contemplated fear; had a comment to make about war or religion; is passionate about cake; enjoys music, words, and sound; and keeps pluging at life as best as possible, with a brilliant vitality is a peer of Hamby's, and will laugh, think, and tap toes in rhythm to her book." 
—Hollins Critic
or
Not Currently Available for Direct Purchase