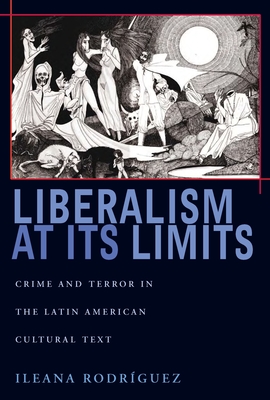 Liberalism at Its Limits (Paperback)
Crime and Terror in the Latin American Cultural Text (Pitt Illuminations)
University of Pittsburgh Press, 9780822960195, 256pp.
Publication Date: April 26, 2009
Other Editions of This Title:
Hardcover (4/26/2009)
* Individual store prices may vary.
Description
In Liberalism at Its Limits, Ileana Rodríguez considers several Latin American nations that govern under the name of liberalism yet display a shocking range of nondemocratic features.  In her political, cultural, and philosophical analysis, she examines these environments in which liberalism seems to have reached its limits, as the universalizing project gives way to rampant nonstate violence, gross inequality, and neocolonialism. 
Focusing on Guatemala, Colombia, and Mexico, Rodríguez shows how standard liberal models fail to account for new forms of violence and exploitation, which in fact follow from specific clashes between liberal ideology and local practice. Looking at these tensions within the ostensibly well-ordered state, Rodríguez exposes how the misunderstanding and misuse of liberal principles are behind realities of political turmoil, and questions whether liberalism is in fact an ideology sufficient to empower populations and transition nation-states into democratic roles in the global order. 
In this way, Liberalism at Its Limits offers a critical examination of the forced fitting of liberal models to Latin American nations and reasserts cross-cultural communication as crucial to grasping the true link between varying systems of value and politics.
About the Author
Ileana Rodríguez is Distinguished Humanities Professor in the Department of Spanish and Portuguese at The Ohio State University. She has authored several books, including Transatlantic Topographies: Islands, Highlands, Jungles and Women, Guerrillas, and Love: Understanding War in Central America. Rodríguez has also edited numerous books, including the Latin American Subaltern Studies Reader and Process of Unity in Caribbean Society: Ideologies and Literature.
Praise For Liberalism at Its Limits: Crime and Terror in the Latin American Cultural Text (Pitt Illuminations)…
"Ileana Rodríguez invites us to explore the limits of liberalism in Latin America. Her book is a tense and intricate weave that connects cultural studies with political science and history. State failures turn out to be over-determined by the inherent flaws in liberalism itself, magnified into outright breeches of reason in Latin America, and by the inauspicious context that tries liberalism. But readers will also perceive a profound admiration for both the challenging context and the political agility it can foster. At the limits of liberalism are intimations of resourceful hybridity that develop at the margins of spectacular failure."
—Doris Sommer, Harvard University
"An ambitious, powerfully insightful book, a significant intervention in reframing the study of Latin American cultural politics. The three case studies could not be more pertinent. Rodriguez sets a benchmark for mature synthetic scholarship."
—Mary Louise Pratt, Silver Professor, New York University
"A deft, well-documented treatment of often-troubling material. Highly recommended."
—Choice

or
Not Currently Available for Direct Purchase