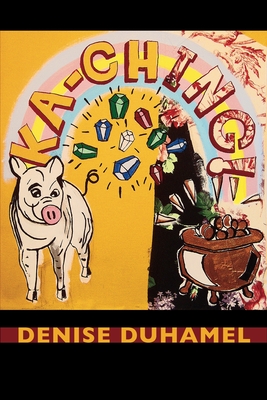 Ka-Ching! (Pitt Poetry Series) (Paperback)
University of Pittsburgh Press, 9780822960218, 72pp.
Publication Date: January 31, 2009
* Individual store prices may vary.
Description
Ka-Ching! is a book of poems that explores America's obsession with money. It also includes a crown of sonnets about e-bay, sestinas on the subjects of Sean Penn and the main characters of fairytales, a pantoum that riffs on a childhood riddle, and a villanelle inspired by bathroom grafitti.
About the Author
Denise Duhamel is associate professor of English at Florida International University.  She is the author of ten poetry collections, including Two and Two and Queen for a Day: Selected and New Poems. Duhamel has also written five chapbooks of poetry and coedited, with Maureen Seaton and David Trinidad, Saints of Hysteria: A Half-Century of Collaborative American Poetry. The recipient of numerous awards, including a National Endowment for the Arts Fellowship, she has been anthologized widely, appearing in six volumes of The Best American Poetry.
Praise For Ka-Ching! (Pitt Poetry Series)…
"Duhamel's blunt, occasionally playful voice is versatile . . . Although long lines and expository prose blocks dominate this collection, the poet's lyricism emerges in moments when she employs traditional form in surprising ways. Duhamel . . . has written some of the first poetry to deeply register the current economic crisis."
—Publishers Weekly
"This is the wildest, most honest book of poetry written in a long time. The various forms Duhamel uses prove that her imagination is keen and totally unpredictable. Dominated by prose poems, the book ranges across every contemporary worry, obsession, and conflict possible. The result is a voice that brings solutions to the challenges of everyday life while investigating how language rebuilds hope in a troubled and chaotic time."
—The Bloomsbury Review
"Duhamel is a wily technician, a touching humanist, a poet deserving stardom."
—Entertainment Weekly
"This is the wildest, most honest book of poetry written in a long time. The various forms Duhamel uses prove that her imagination is keen and totally unpredictable. Dominated by prose poems, the book ranges across every contemporary worry, obsession, and conflict possible. The result is a voice that brings solutions to the challenges of everyday life while investigating how language rebuilds hope in a troubled and chaotic time."
—The Bloomsbury Review
"Duhamel is a wily technician, a touching humanist, a poet deserving stardom."
—Entertainment Weekly
"Reliably sharp and entertaining. Duhamel's knack for blending tones—especially the personal and sociological, the ludicrous and the horrifying, the silly and the pathetic—gives poem after poem its distinctive and unforgettable character."
—ALA Booklist, starred review
or
Not Currently Available for Direct Purchase