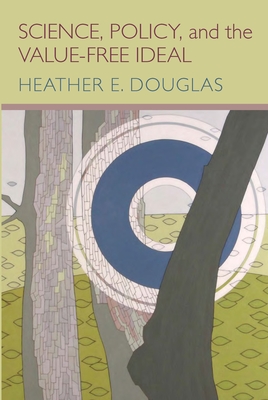 Science, Policy, and the Value-Free Ideal
Paperback

* Individual store prices may vary.
Description
The role of science in policymaking has gained unprecedented stature in the United States, raising questions about the place of science and scientific expertise in the democratic process. Some scientists have been given considerable epistemic authority in shaping policy on issues of great moral and cultural significance, and the politicizing of these issues has become highly contentious.
Since World War II, most philosophers of science have purported the concept that science should be "value-free." In Science, Policy and the Value-Free Ideal, Heather E. Douglas argues that such an ideal is neither adequate nor desirable for science.  She contends that the moral responsibilities of scientists require the consideration of values even at the heart of science. She lobbies for a new ideal in which values serve an essential function throughout scientific inquiry, but where the role values play is constrained at key points, thus protecting the integrity and objectivity of science. In this vein, Douglas outlines a system for the application of values to guide scientists through points of uncertainty fraught with moral valence.
Following a philosophical analysis of the historical background of science advising and the value-free ideal, Douglas defines how values should-and should not-function in science.  She discusses the distinctive direct and indirect roles for values in reasoning, and outlines seven senses of objectivity, showing how each can be employed to determine the reliability of scientific claims.  Douglas then uses these philosophical insights to clarify the distinction between junk science and sound science to be used in policymaking. In conclusion, she calls for greater openness on the values utilized in policymaking, and more public participation in the policymaking process, by suggesting various models for effective use of both the public and experts in key risk assessments.
Praise For Science, Policy, and the Value-Free Ideal…
"Science, Policy, and the Value-Free Ideal
is an important contribution to the debate over science and values, and its account of value-laden science will be of interest to philosophers concerned with policy, scientific objectivity, and the social relevance of philosophy of science. A welcome invitation for philosophers of science to engage more fully with policy issues, a too-often neglected aspect of scientific practice."
—Notre Dame Philosophical Reviews
"Douglas has produced a valuable book that should be of interest not only to philosophers but also to historians, sociologists, policy makers, and practicing scientists. . .  Douglas has also raised a number of important issues that scholars working in science studies will want to explore further."
—Isis
"A wonderfully evenhanded argument for the impossibility of the 'value-free ideal' in science. Highly recommended."
—Choice
"Clearly written, a pleasure to read."
—Metapsychology
"Occupies a unique niche bridging philosophy and risk assessment. Everyone involved in providing and using scientific advice, and in doing risk analysis in general, would benefit from thinking about the issues and arguments presented in the book."
—Risk Analysis
"A thought-provoking book for all readers interested in science studies, including philosophy, history, and sociology of science. It is also highly recommended for those who study or work in the decision oriented sciences, an activity that is becoming increasingly relevant in science and politics in contemporary societies."
—Science and Education
"
Science, Policy, and the Value-Free Ideal
is a welcome addition to the growing literature on the role of values in science. She clearly articulates at least one way in which values do play a legitimate, though indirect, role in science (in risk assessment).  She correctly diagnoses some important reasons why there is resistance to recognizing this, and makes it clear why acknowledging the role of values explicitly can be important for using science to make better policy decisions."
—Sharon Crasnow, Riverside Community College
"An admirable and exciting book. . . . a useful starting point for thinking through such issues."
—S. John/Studies in History and Philosophy of Science
University of Pittsburgh Press, 9780822960263, 256pp.
Publication Date: July 15, 2009
About the Author
Heather E. Douglas is an associate professor in the Department of Philosophy at Michigan State University. She received her PhD from the History and Philosophy of Science Department at the University of Pittsburgh in 1998 and has held tenure-line positions since then at the University of Puget Sound, the University of Tennessee, and the University of Waterloo. She is the author of numerous articles on values in science, the moral responsibilities of scientists, and the role of science in democratic societies. Her work has been supported by the National Science Foundation, and in 2016 she was named a fellow of the AAAS. She is editor of the book series Science, Values, and the Public.
or
Not Currently Available for Direct Purchase