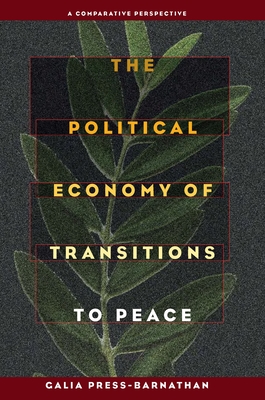 The Political Economy of Transitions to Peace
A Comparative Perspective (The Security Continuum)
Paperback

* Individual store prices may vary.
Other Editions of This Title:
Hardcover (7/5/2009)
Description
Much attention has focused on the ongoing role of economics in the prevention of armed conflict and the deterioration of relations. In The Political Economy of Transitions to Peace, Galia Press-Barnathan focuses on the importance of economics in initiating and sustaining peaceful relations after conflict.
Press-Barnathan provides in-depth case studies of several key relationships in the post-World War II era: Israel and Egypt; Israel and Jordan; Japan, the Philippines, and Indonesia; Japan and South Korea; Germany and France; and Germany and Poland. She creates an analytical framework through which to view each of these cases based on three factors: the domestic balance between winners and losers from transition to peace; the economic disparity between former enemies; and the impact of third parties on stimulating new cooperative economic initiatives. Her approach provides both a regional and cross-regional comparative analysis of the degree of success in maintaining and advancing peace, of the challenges faced by many nations in negotiating peace after conflict, and of the unique role of economic factors in this highly political process.
Press-Barnathan employs both liberal and realist theory to examine the motivations of these states and the societies they represent. She also weighs their power relations to see how these factor into economic interdependence and the peace process. She reveals the predominant role of the state and big business in the initial transition phase ("cold" peace), but also identifies an equally vital need for a subsequent broader societal coalition in the second, normalizing phase ("warm" peace).  Both levels of engagement, Press-Barnathan argues, are essential to a durable peace. Finally, she points to the complex role that third parties can play in these transitions, and the limited long-term impact of direct economic side-payments to the parties.
Praise For The Political Economy of Transitions to Peace: A Comparative Perspective (The Security Continuum)…
"Press-Barnathan provides an interesting twist on the question of whether trade promotes peace. Using a thorough exploration of several interesting cases, she reminds us that policymakers who are committed to the pacifying power of commerce imagine it will do more than prevent war between friendly states; they believe actively promoting economic cooperation between enemies could produce both peace and trade in situations where both are limited or nonexistent. Her book should be of interest to both scholars and practitioners."
—Katherine Barbieri, University of South Carolina
"By focusing on the relationship between trade and peacemaking, Galia Press-Barnathan advances an innovative political economy theory of transitions to peace among former rivals. An extensive set of regional cases enhances our understanding of the different stages in the transition to peace."
—Steven E. Lobell, University of Utah
"[Press-Barnathan] has produced and demonstrated the value of a multistage model of the transition process that is useful for both scholars and practitioners."
—Choice
University of Pittsburgh Press, 9780822960270, 304pp.
Publication Date: July 5, 2009
About the Author
Galia Press-Barnathan is assistant professor of international relations at Hebrew University of Jerusalem. She is the author of Organizing the World: The United States and Regional Cooperation in Asia and Europe.