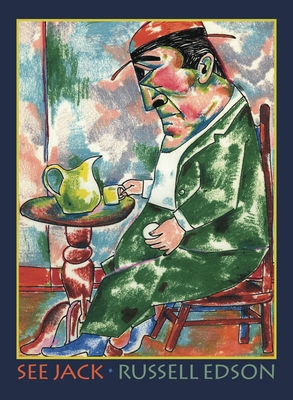 See Jack (Pitt Poetry Series) (Paperback)
University of Pittsburgh Press, 9780822960300, 80pp.
Publication Date: March 20, 2009
* Individual store prices may vary.
Description
"An artist who moonlights as a dentist. A worm who's eternal. A farmer who milks his cow to death.  Not to mention the guy with a belly button for an eye. Russell Edson, self-named Little Mr. Prose Poem, returns with See Jack, a book of fractured fairy tales, whose impeccable logic undermines logic itself, a book that champions what he has called elsewhere 'the dark uncomfortable metaphor.' 'What better way to die,' he writes in the final prose poem, 'than waiting for the fat lady to sing in the make-believe of theater, where nothing's real, not the fat lady, not even death . . . '  See Jack may be Edson's best book yet—proof that his imaginative powers keep growing. What a deliciously scary thought!"
—Peter Johnson
About the Author
Russell Edson is a playwright, novelist, and poet. He is the author of eighteen previous poetry collections, including The Tormented Mirror, The Reason Why the Closet-Man is Never Sad, The Wounded Breakfast: Ten Poems, and The Tunnel: Selected Poems.
Praise For See Jack (Pitt Poetry Series)…
"The profundity of Edson's genius has perhaps never been as fully appreciated as it should, in spite of his fervent following. But Edson is one of the few poets one would trust to survive an encounter with death itself and find ever new terrain for poetry. 'See Jack' is as much the capstone of a singular career as it is a point of departure for Edson's ongoing practice of things unattempted yet in prose or rhyme."
--Kenyon Review
"Edson continues to build his legend by writing sad, serious, strange, and funny prose poems. No one writes like Edson, though many prose poets wish they could and have imitated him for decades. This new volume perpetuates the myth, presenting fresh and insightful paragraphs on everything from internal worms to an old man's soup to a man barking at the moon."
—Bloomsbury Review
"Edson is one of the most significant practitioners of the prose poem in contemporary American letters."
—Rain Taxi
"Edson's prose poems are like fables. Each opens a window onto a world that is absurd and ruthless, funny and perverse. . . . an enjoyable new book." 
—Pleiades