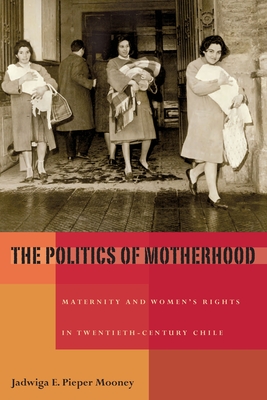 The Politics of Motherhood
Maternity and Women's Rights in Twentieth-Century Chile (Pitt Latin American Series)
Paperback

* Individual store prices may vary.
Description
With the 2006 election of Michelle Bachelet as the first female president and women claiming fifty percent of her cabinet seats, the political influence of Chilean women has taken a major step forward. Despite a seemingly liberal political climate, Chile has a murky history on women's rights, and progress has been slow, tenuous, and in many cases, non-existent.

Chronicling an era of unprecedented modernization and political transformation, Jadwiga E. Pieper Mooney examines the negotiations over women's rights and the politics of gender in Chile throughout the twentieth century. Centering her study on motherhood, Pieper Mooney explores dramatic changes in health policy, population paradigms, and understandings of human rights, and reveals that motherhood is hardly a private matter defined only by individual women or couples. Instead, it is intimately tied to public policies and political competitions on nation-state and international levels.

The increased legitimacy of women's demands for rights, both locally and globally, has led to some improvements in gender equity. Yet feminists in contemporary Chile continue to face strong opposition from neoconservatism in the Catholic Church and a mixture of public apathy and legal wrangling over reproductive rights and health.
Praise For The Politics of Motherhood: Maternity and Women's Rights in Twentieth-Century Chile (Pitt Latin American Series)…
"Mooney's firm grounding in archival sources is one her book's many strengths. She also unearths more than a few archival 'gems' over the course of her reasearch. Mooney offers a new, more nuanced understanding of how international politics of reproduction influenced women's lives at a local level, and thus contributes to a deeper understanding of the modernization of Chilean motherhood."
—American Historical Review
"At its heart and at its best this book is a fine study of medical and public policy debates over maternal production. It bravely spans the whole of the twentieth century . . . a valuable study."
—Hispaninc American Historical Review
"In a remarkably readable book, Jadwiga Pieper Mooney places the politics of motherhood and reproductive rights in twentieth-century Chile in a transnational context, analyzing how Chilean physicians and politicians appropriated ideas about population control from abroad. At the same time, Pieper Mooney shows how women's activism and new ideas about women's roles as citizens and mothers shaped birth control plans and other state policies. A pioneering work on motherhood, the unfolding of the Cold War, and reproductive policies and technologies."
—Karin Alejandra Rosemblatt, University of Maryland
"Written with women as central actors and speakers, this deeply researched and well-structured argument offers a comprehensive and insightful analysis of a century of Chilean history. Clear, fresh understandings that dispel long-held presumptions about gender and government emerge from impressive scholarship. Beautifully written and richly documented, Pieper Mooney's work will be welcomed by scholars and students alike."
—Francesca Miller, UC Davis
"Pieper Mooney brilliantly presents the relationship between the power of politics and women's individual agency to decide on reproduction and motherhood. With a beautiful writing style, the argument gently flows throughout the volume. This very accessible book certainly contributes to an informed debate on motherhood and womanhood in Chile across disciplines. While the historical context reveals the situation of women in Chile, the topics discussed are of great significance for women all over the world."
—Bulletin of Latin American Research
"Engaging, well-written overview of the fraught relationship between the gendered construction of maternity and women's reproductive rights."
—Choice
"[A] chilling story, extremely well written and documented . . .  Truly provocative and incisive."
—Journal of Latin American Studies
University of Pittsburgh Press, 9780822960430, 320pp.
Publication Date: December 6, 2009
About the Author
Jadwiga E. Pieper Mooney is assistant professor of history at the University of Arizona.