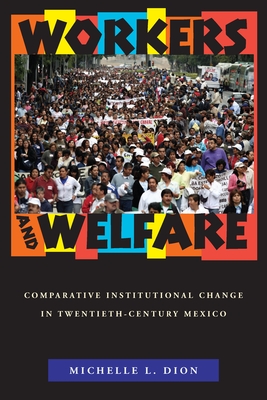 Workers and Welfare (Paperback)
Comparative Institutional Change in Twentieth-Century Mexico (Pitt Latin American Series)
University of Pittsburgh Press, 9780822960454, 336pp.
Publication Date: February 28, 2010
* Individual store prices may vary.
Description
After the revolutionary period of 1910-1920, Mexico developed a number of social protection programs to support workers in public and private sectors and to establish safeguards for the poor and the aged. These included pensions, healthcare, and worker's compensation. The new welfare programs were the product of a complex interrelationship of corporate, labor, and political actors. In this unique dynamic, cross-class coalitions maintained both an authoritarian regime and social protection system for some seventy years, despite the ebb and flow of political and economic tides.

By focusing on organized labor, and its powerful role in effecting institutional change, Workers and Welfare chronicles the development and evolution of Mexican social insurance institutions in the twentieth century. Beginning with the antecedents of social insurance and the adoption of pension programs for central government workers in 1925, Dion's analysis shows how the labor movement, up until the 1990s, was instrumental in expanding welfare programs, but has since become largely ineffective. Despite stepped-up efforts, labor has seen the retrenchment of many benefits. Meanwhile, Dion cites the debt crisis, neoliberal reform, and resulting changes in the labor market as all contributing to a rise in poverty. Today, Mexican welfare programs emphasize poverty alleviation, in a marked shift away from social insurance benefits for the working class.
About the Author
Michelle L Dion is assistant professor of political science at McMaster University, Hamilton, Ontario.
Praise For Workers and Welfare: Comparative Institutional Change in Twentieth-Century Mexico (Pitt Latin American Series)…
"Michelle Dion's book offers a comprehensive, thorough, well-researched, and theoretically interesting analysis of the development of Mexico's social protection system during the last hundred years. The emphasis on working class pressures complements the conventional wisdom on the predominance of the state, and the analysis of the transformation of social policy in the neoliberal era is particularly masterful."
—Kurt Weyland, University of Texas at Austin
"Workers and Welfare is one of the most successful contributions of a new generation of studies of welfare regimes in Latin America. Dion combines theoretical rigor, sophisticated analysis of qualitative and statistical data, and impressive field research in Mexico. A broad understanding of welfare regimes in the region as a whole is provided by comparisons of Argentina, Brazil, and Chile."
—William C. Smith, University of Miami
"An insightful and original analysis of the development of social insurance policies in Mexico during the twentieth century."
—Governance
"Summarizes with clarity and candor the momentous issues that have formed the core of debates about change in this Andean nation since the landslide victory of Morales in December 2005, debates which seem to come to a head in the constitutional debate."
—Latin American Review of Books
"An authorative historical analysis of the politics of welfare in Mexico. Scholars and practitioners alike will benefit from Dion's careful research and clear writing."
—Sage Journals Online
"Dion has written the most comprehensive account of Mexico's welfare institutions and policies to date."
—Contemporary Sociology
"The most thorough and comprehensive history of social welfare in Mexico of which I am aware. [Dion's] thorough demonstration that expansion of the welfare state was a response to explicit union demands, and not just a preemptive attempt to head off dissent, is compelling, and adds to the literature showing Mexican unions as proactive agents, not simply corporatist puppets. She marshals historical, quantitative, and comparative data to make her case."
—Perspectives on Politics
"By far the most comprehensive account of Mexico's welfare state, and provides researchers with an essential historical perspective on contemporary debates. It will also be useful for historians of Mexican politics and state-building, who will appreciate its original emphasis on working-class and business pressures, and the connections across periods usually studies separately."
--The Americas
or
Not Currently Available for Direct Purchase