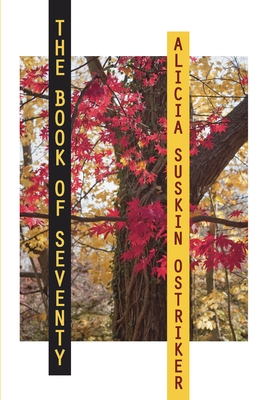 The Book of Seventy (Pitt Poetry Series) (Paperback)
University of Pittsburgh Press, 9780822960515, 72pp.
Publication Date: October 15, 2009
* Individual store prices may vary.
Description
Alicia Ostriker seizes the opportunity to take us where too few poets have been able to take us: into a domain of what our fabulists like to call the "golden years." as we live longer, we become inevitably curious about the actual texture of these late years, curious about what happens in the soul. Out of that curiosity is a new kind of poetry born, an elderstile that has passion and irony, wisdom, folly, clarity and tenderness. In her keen engagement with the self and the world, Ostriker offers us a voice and a perspective that explore the territory of seventy and beyond.
About the Author
Alicia Suskin Ostriker is the author of eleven previous poetry collections, including: The Mother/Child Papers; No Heaven; the volcano sequence; and The Little Space: Poems Selected and New, 1968-1998.  She has received the Paterson Poetry Prize, the William Carlos Williams Award, the San Francisco State Poetry Center Award, and has twice been a finalist for the National Book Award. Ostirker is Professor Emerita of English at Rutgers University and teaches in the low-residency MFA program of Drew University.
Praise For The Book of Seventy (Pitt Poetry Series)…
"In this passionate, thoughtful collection, Ostriker approaches aging, politics, myth, and sensuality. With wisdom, she lyrically questions the world and the death and beauty that are a part of it."
—American Poet
"There's a forthrightness to even the most difficult realizations in Ostriker's work, born of fidelity to craft and emotional truth, making them not only welcome, but necessary. . . . Through the elastic instrument of one voice as it grapples, ponders, digs, almost revels in ndissonance, and ultimately mellows, these poems mae a kind of tough peace."
—Pleiades
"Here is a hard, obdurate, elusive sort of beauty. Alicia Ostriker is not only one of our very best poets but one of our most crucial."
—Joyce Carol Oates
"I found these poems to get stronger, stranger, more religious and more beautiful with each reading. I urge you to spend time with them and 'drink their bliss.'"
—Jewish Book World
"Alicia Ostriker is a fool for beauty. She says so on 'West Fourth Street.'  She is also a fool for wisdom but, like a smart sage, she does it slant. I'm shocked by these poems, shocked by how good they are. How many skins has she shed to get here? Just take a look at a short poem called 'Dear God' or 'Born in the USA' or fifteen others. Amazing."
—Gerald Stern
"Ostriker takes us into a domain of what some like to call the 'golden yerars.' As we live longer, we become inevitably curious about the actual texture of these late years, curious about what happens in the soul. Out of that curiosity is born a new kind of poetry. Ostriker offers us a voice and a perspective that explore the territory of seventy and behond."
—Shofar
"The Book of Seventy  will speak to everyone: Alicia Ostriker's honest voice, her humor, her wisdom, her gutsiness; her scholarly, longing mind; her knowing body: 'my mind is a cervix / I can imagine anything'; and from the first page to the last, her long-recognized courage in facing down—even welcoming—just about everything."
—Jean Valentine
"Many of the poems in this book fill me with awe and pleasure. . . . Readings these poems felt like having a conversation with a friend who is witty, learned, bawdy, compassionate, and a hell of a good poet. If this is 'The Book of Seventy,' bring on 'The Book of Eighty.'"
—Poet Lore